Intel Announces Next Version of Thunderbolt With 20Gbps Throughput Coming in 2014
Engadget reports that Intel has announced the next generation of Thunderbolt, promising throughput of 20 Gbps in each direction -- twice as fast as the current protocol, allowing simultaneous 4K video file transfer and display
The new generation of Thunderbolt, code-named 'Falcon Ridge', will be backwards compatible with current-generation cables and connectors. Intel expects production to ramp up in 2014.

An on-stage demo with fresh-off-the-press silicon showed the new Thunderbolt running 1,200 [MB/sec], which is certainly a step up from what's currently on the market.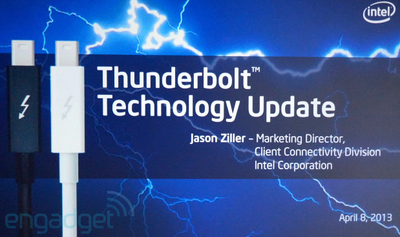 A minor update to Thunderbolt, called 'Redwood Ridge', will be included in some of Intel's upcoming 'Haswell' Core processors.