Tim Cook Live on Stage at D11: All Things Digital Tonight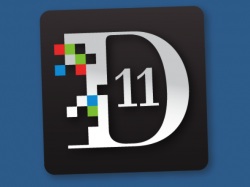 As
announced
late last month, Apple CEO Tim Cook will sit down today for an opening session interview at the
D11: All Things Digital
conference in Rancho Palos Verdes, California. The session will kick off at 6:00 PM Pacific Time / 9:00 PM Eastern Time tonight, and
MacRumors
will be covering his interview as it happens.
Cook participated in the event for the first time last year with a
100-minute interview
with Walt Mossberg and Kara Swisher. Cook's predecessor, Steve Jobs, also participated in the D conferences on a number of occasions.
Cook is not expected to make any major announcements during his interview, but he is likely to provide some insight into Apple's business and the markets in which the company participates. Tidbits from his appearance last year included discussion of how Apple was going to
"double down"
on product secrecy in order to fight leaks, a brief mention of Apple's
interest in TV
, and
hints
at the Facebook integration that arrived in iOS 6 and improvements to Siri.