Tim Cook at D10: Dodges Questions about TV, Is an Area of "Intense Interest"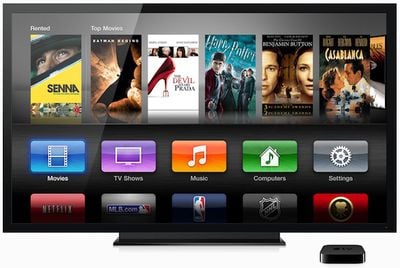 At this year's
All Things D
conference, Walt Mossberg and Kara Swisher asked Apple CEO Tim Cook about the Apple TV and the company's interest in making a full fledged television set. Rumors of such a product have been persistent but with increasing frequency over the past few years.
Cook reiterated the relatively small success of the current Apple TV set top box. He notes that the device has been selling at twice the rate of the previous year with 2.7 million units sold in the first 6 months of 2012. As he has in the past, Cook reports that there is incredibly high customer satisfaction with the current Apple TV set top box, and it's an area they have intense interest in:
This is an area of intense interest for us. Many of us, the TV that we do watch, is almost exclusively on [the Apple TV]. That's what my TV watching is. All of my movies, everything is coming through Apple TV.

So, the customer satisfaction with that product is incredible. We're going to keep pulling this string and see where it takes us. Many people would say "this is an area in their life that they aren't pleased with." They might not be pleased with many things about it. The whole TV experience. It's an interesting area. We'll have to see what we do. Right now our contribution is Apple TV.
A bit later in the interview, Mossberg comes out and asked Tim Cook directly "Are you making a television", to which Cook replies that he's not going to answer that question.
Cook does discuss their general approach to product design in response to Apple's possible contribution to the television market:
We would look at this and say can we control the key technology? Can we make a significant contribution beyond what others have made in this area? Can we make a product that we would all want? That's all thing we would ask about any new product category. It's the ones we ask about products within families we're thinking about now.