Full Video of Tim Cook's D10 Interview Now Available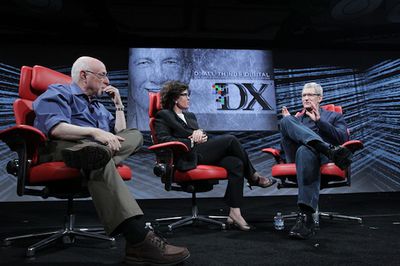 Just hours before Apple CEO Tim Cook is expected to take the stage to kick off the keynote at the company's Worldwide Developers Conference, AllThingsD has posted the full video of his interview at last month's D10 conference. MacRumors was on hand for the event to offer a rough transcript of the interview and AllThingsD previously posted video highlights, but today's release includes the entire 100-minute interview complete with the Q&A session.
Aside from a few short interviews and an investor conference, Cook's session with Walt Mossberg and me was the first extended public talk as the newish leader of perhaps the most important and definitely most influential company in tech.

So, getting to see Cook in action is probably the most important part of this interview. While clearly playing it close to the vest, he ranged over a wide number of topics from secrecy at Apple (it's now apparently been doubled!) to the iPhone to controversies in China to a possibly more social partnership with Facebook more television efforts to, of course, the legacy Apple's co-founder Steve Jobs, who died last year.
Steve Jobs was a regular participant at the annual D conference, and Cook has carried on that tradition by serving as the opening session interview at this year's event.
(Photo by Asa Mathat | All Things Digital)