A number of tidbits related to Apple's retail store initiative have surfaced in recent days, with Apple apparently making progress on several new stores in Germany and the Netherlands as it opens a new store in the United Kingdom this weekend.
iFun.de reports [Google translation] that workers have begun removing scaffolding and barriers outside of Apple's first Berlin store. The site reported over the weekend [Google translation] that the store appears set to open during the first weekend in May.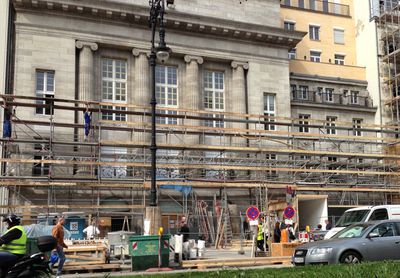 Scaffolding coming down at Apple's Berlin store
Meanwhile, a tipster in Hanover, Germany reports that Apple's delayed retail store project there appears to be seeing some progress, with signs of work showing up behind the plain black barricades typically used by Apple.

Barricades at Apple's retail store in Hanover, Germany (Thanks, Roman!)
Over in the Netherlands,
One More Thing reports
[
Google translation
] that Apple has posted
job listings
for upcoming stores in The Hague and Haarlem, suggesting that Apple is moving forward on those projects. Grand openings are, however, likely six months away based on Apple's usual hiring timetables.
Of more immediate concern, Apple will be opening a new store in the United Kingdom this Saturday, with its Drake Circus store in Plymouth scheduled to open to the public at 9:00 AM. The store will add a new shopping option for residents of South West England, with the new store location roughly 45 miles southwest of the closest current store in Exeter.


In one final development, Apple's expanded and relocated Southdale retail store in Edina, Minnesota will also be opening on Saturday.