Shares of Television Set Maker Loewe Jump as Apple Acquisition Rumors Resurface
Reuters reports that shares of German television set maker Loewe jumped 43% today as rumors of a possible acquisition by Apple resurfaced. A trader was quoted as saying that Apple is looking to bid 4 euros per share for Loewe, but a company spokesman claimed that Loewe was not aware of any such offer.
Rumors of an Apple acquisition of Loewe first emerged in May of last year, dying when Loewe said there was "absolutely nothing to it". It is not known what has led to the renewed speculation today.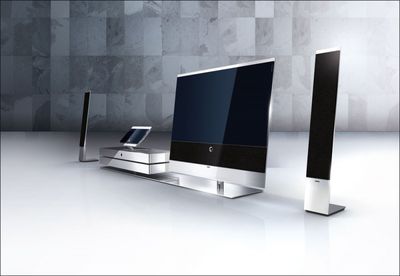 While Loewe's luxury TV designs are very much in line with what might be expected from the long-anticipated Apple television set, given that design is one of Apple's core strengths it is not immediately clear what unique contributions Loewe might bring to the table. The German manufacturer is 28% owned by Sharp, 13% by the company's management, 11% by storage company Lacie, and the rest freely traded.
As of the time of writing, Loewe shares were up 33% to 3.63 euros ($4.89), valuing the company at 53 million euros.