Apple and Starbucks Partner for (Product) Red Gift Cards
Just in time for the holidays, Apple and Starbucks have partnered up for a (Product) Red gift card combo. When you buy the $15 iTunes + $15 Starbucks gift card both companies together will contribute 5% to the Global Fund to help fund AIDS research.

Give a gift that gives back this holiday season with Starbucks iTunes (RED)™ eGift basket. You can send loved ones a thoughtful gift of two digital eGifts—$15 eGift to Starbucks and $15 eGift to iTunes—for $30. Plus, for every gift sold, Starbucks and iTunes will together contribute 5% of the purchase price to the Global Fund to help deliver an AIDS free generation by 2015. With the convenience of a Starbucks Card, Starbucks Card eGifts can be used for purchases in-store at participating company-owned and licensed stores in the U.S. and online. This unique and meaningful eGift basket can be purchased at www.starbucks.com/REDeGift.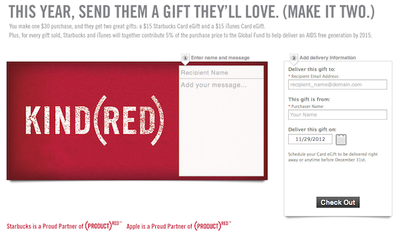 Apple has long been a supporter of the (Product) Red campaign, selling red iPod nano models, iPad Smart Cases and Smart Covers. Most recently, Apple released a (Product) Red bumper for the iPhone 4S and iPhone 4. At an Apple town hall meeting in February, Tim Cook mentioned that Apple (Product) Red products have generated over $50 million to help fund AIDS research. The gift card combo can be purchased at this website.