Availability of Apple's Lightning Adapters and Cables Slipping [Updated]
With shipping estimates for new pre-orders of the iPhone 5 through Apple's online store slipping to two weeks just an hour after pre-orders began earlier today, customers are also snapping up Apple's supplies of Lightning adapters and cables.
Alongside the iPhone 5 announcement on Wednesday, Apple introduced a pair of adapters to allow users to continue using older cables and accessories based on the long-standing 30-pin dock standard: a $29 direct plug adapter and a $39 short-cable adapter.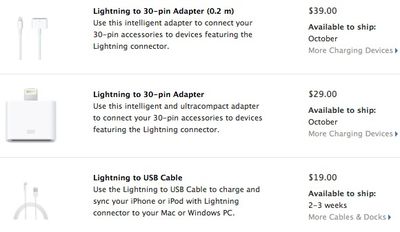 Availability of the new adapters has already begun to slip significantly, with Apple now quoting shipping estimates of "October" for new orders through its online store. The company's $19 Lightning to USB cable, which comes standard with Apple's latest devices but which should be popular as a standalone purchase with customers wanting to set up multiple charging locations, has also slipped from 1-3 business days to 2-3 weeks.
Apple has also acknowledged that it will be launching HDMI and VGA cables for Lightning-equipped devices, but the company has not yet made them available for order.
Update: A number of readers have noted that the adapters have been listed as shipping in October since they first showed up in Apple's online store on Wednesday. Shipping estimates on the USB cable have, however, indeed slipped.