Jim Dalrymple Hints at Two Separate Apple Media Events for New iPhone and iPad Mini
Renowned Apple journalist Jim Dalrymple -- known for his "Yep" confirmations to Apple rumors -- has posted a cryptic message suggesting that Apple will hold two separate media events this fall for the new iPhone and iPad mini.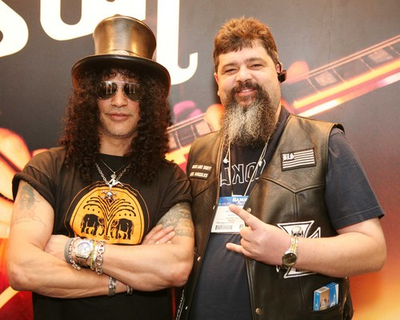 Jim Dalrymple (right) with rock guitarist Slash
The message was written in response to a theory postulated by John Gruber of
Daring Fireball
, saying that he is a "smart fellow"
for this post
:
I'm thinking it makes more sense for Apple to hold two events. First, an iPhone event, focused solely on the new iPhone and iOS 6. Then, the iPhone ships nine days later, and there's another wave of iPhone-focused attention as the reviews come out. Then, in the first or second week of October, Apple holds its traditional "music event", exactly along the lines of the events at which they've been debuting new iPods for the last decade.
It has previously been all but confirmed that Apple will hold a media event on September 12th to announce a new product, initially presumed to be the next-generation iPhone and an iPad Mini. With Dalrymple's track record, however, it seems possible that the new iPhone will come first and a smaller iPad will be announced later in the fall at a separate event.