WWDC 2012 Keynote Live Coverage Details
With Apple's Worldwide Developers Conference (WWDC) set to kick off in San Francisco with a highly-anticipated keynote at 10:00 AM Pacific Time, it's time for us to set the stage with final details on the latest rumors and coverage information.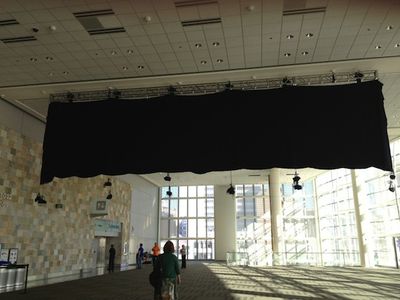 Covered banner outside keynote hall (Source: @saschasegan)
Coverage
MacRumors will be offering live text and photo updates from the keynote through MacRumorsLive.com (Transcription is being handled by @hodapp). The main MacRumors.com page will automatically redirect to MacRumorsLive as we get closer to the event, so stay tuned here. We will also be providing Twitter updates through our @MacRumorsLive account. Separate news stories regarding the event announcements will go out through our @MacRumors account.
As is routine for major Apple product announcements, the Apple online store has already been down for several hours and will almost certainly remain down until the conclusion of the keynote.
MacRumors forum members interested in a "spoiler-free" environment to wait for the full keynote video to become available can follow the thread associated with our dedicated article. A direct link to the official keynote video will be posted there when it becomes available.

Crowd waiting to enter keynote hall
Rumors
We posted our comprehensive rumor roundup over the weekend, but details have continued to surface since that time, most notably including details on new Retina MacBook Pro, MacBook Air, and standard MacBook Pro and Mac Pro models. Apple has also been said to be releasing developer builds of iOS 6 and Safari 6 today. Finally, Apple will be launching its annual Back to School promotion tomorrow, although it is unclear whether that will be included in today's announcements.
9to5Mac now reports that Apple will be introducing an "iPad Smart Case" available in six colors: dark gray, light gray, pink, green, blue, and red. These appear to the accessories that were initially thought to be new iPod shuffle models in a leaked part number list. iLounge had claimed that an enhanced Smart Cover was in the works earlier this year, but it did not appear alongside the third-generation iPad.