MacBook Air Upgrades Said to Include Up to 8 GB RAM and 512 GB SSD
9to5Mac reports that it has received information on the MacBook Air upgrades to be announced today, with each of the 11.6-inch and 13.3-inch sizes arriving in two standard configurations with a third customizable high-end configuration also heading into stock at some retailers.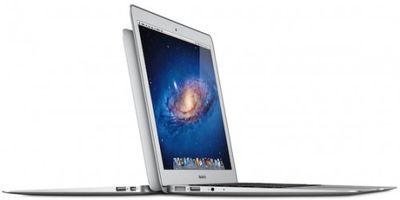 According to the report, the initial model descriptions include not only a boost in processor performance to Intel's latest Ivy Bridge processors but also boosts to RAM (maxing out at 8 GB on both sizes) and solid-state drive capacity (maxing out at 512 GB on the 13-inch model). The descriptions include model number, short product name, screen size, processor speed in GHz, RAM in GB, and storage size in GB.
11-inch
Base Model: MD223LL/A - MBA 11.6/1.7/4/64FLASH-USA
Better: MD224LL/A - MBA 11.6/1.7/4/128FLASH-USA
High End: MD845LL/A – MBA 11.6/2.0/8/256FLASH-USA

13-inch
MD231LL/A – MBAIR 13.3/1.8/4/128FLASH-USA
MD232LL/A – MBAIR 13.3/1.8/4/256FLASH-USA
MD846LL/A – MBAIR 13.3/2.0/8/512FLASH-USA
The current MacBook Air includes 2 GB of RAM on the base 11-inch model, with all other models at both screen sizes offering 4 GB of RAM. On the storage side, it appears that the 11-inch model will not be seeing any changes given that the existing line starts at 64 GB and goes up to 256 GB at the high end, but the new 13-inch model is shown as introducing a new 512 GB option at the high end.
We also asked 9to5Mac about the implausible Mac Pro specs they published earlier today, and they assured us that those are indeed the specs that are showing up in inventory systems. Consequently, it remains unclear exactly what is going on with the Mac Pro and whether there might be errors or purposely incorrect information being provided by Apple.