OnLive Intros Virtual Windows 7 Desktop With Office for iPad
Video game streaming company OnLive has announced a free, streaming, virtual Microsoft Windows 7 desktop app for the iPad. The OnLive Desktop app, announced at CES, will eventually expand to other platforms -- including the Mac. Users will have access to full-featured versions of Microsoft Word, Excel and PowerPoint, less than a week after CloudOn introduced its Office solution for the iPad.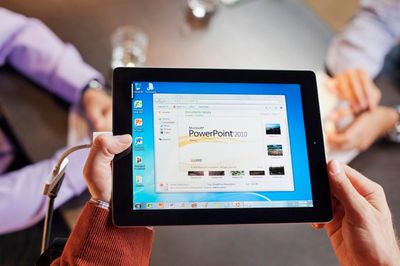 GigaOm has details about how the service will work:

Since applications are running on high-end computing clusters in OnLive's data centers, the only thing holding back performance is the network. Which means that in today's world of pervasive broadband connectivity, Windows applications running on an iPad could potentially be faster than those running on a standard Windows 7 laptop.

OnLive is making the Desktop app available in a freemium model through which users will get 2GB worth of cloud storage and the ability to use Windows 7 applications such as Word, Excel and Powerpoint, as well as other utilities and games. Documents can be stored in the cloud and accessed from any device with a web interface. In the near future, OnLive expects to launch Onlive Desktop Pro, a more robust service that will offer up 50 GB of storage, priority access, additional apps and other features for $9.99 a month. It also promises collaboration features for enterprise users such as sharing documents or working on virtual whiteboards.
The Verge notes that when they tried the app at OnLive HQ, there was "a little bit of perceptible lag, it's pretty impressive manipulating objects with our fingers and flipping through PowerPoint presentations on a desktop miles away."
OnLive previously announced iPad and iPhone support for its gaming products, though those apps have yet to be publicly released.
Available this Thursday in the U.S. and "soon" in the UK, OnLive Desktop for the iPad will be free on the App Store.