iPhone 4S Debuts in Over 20 New Countries, Pricing Starts as High as $1400
In line with our report from earlier this month, Apple has launched the iPhone 4S in a number of new countries today. Based on an examination of Apple's site and those of its carrier partners, we have found over 20 countries where the device appears to have debuted today.
The list of new countries includes: Bahrain, Brazil, Chile, Egypt, Israel, Jordan, Kuwait, Malaysia, Morocco, Peru, the Philippines, Qatar, Russia, Saudi Arabia, South Africa, Taiwan, Thailand, Tunisia, Turkey, United Arab Emirates, and Vietnam.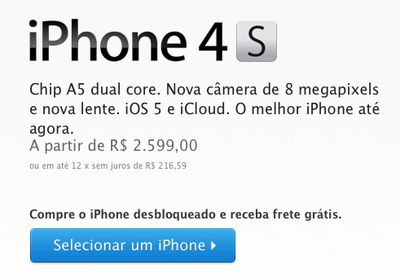 iPhone 4S pricing starting at R$2599 in Brazil, the equivalent of US$1410
As we noted in our earlier report, pricing in Brazil is indeed very high due to the import duties imposed on such devices there, one major reason why Apple and Foxconn are working on ramping up production of iOS devices in the country.
Pricing
for the iPhone 4S through Apple's Brazilian online store starts at the equivalent of $1410 for the 16 GB model and moves up to $1628 for the 32 GB model and $1845 for the 64 GB model.
Pricing is also rather high in Russia, with carrier partner MTC offering the iPhone 4S at prices ranging from the equivalent of $1131 to $1350.
Many other countries seeing iPhone 4S launches have pricing much more in line with Apple's base pricing in the United States and other major markets. Of the new introductions today, Apple also directly sells the iPhone 4S through its online stores in Malaysia, Taiwan, Thailand, and the United Arab Emirates, with pricing coming in roughly around $700/$800/$900 in those markets. Pricing for unlocked, contract-free iPhone 4S models in the United States is set at $649/$749/$849.