A6-Based Apple Television to Come in Three Sizes Ranging from 32 to 55 Inches?
Smarthouse claims to have received word that Apple will be offering its rumored television set in three different sizes ranging from 32 to 55 inches, with the device being powered by the same "new processor" (presumably the A6) set to appear in the iPad 3.
Sources at a major Japanese company who are involved in manufacturing the TV believe that the 55" model will compete with new Smart TVs from Samsung and LG that will have new processors built in while offering a combination of OLED display, as well as new Super HD TV technology from LG.
Smarthouse has historically been rather unreliable with its Apple rumors, but the claim of three different sizes does match up with previous rumors. Smarthouse had claimed earlier this year that Apple was looking at OLED technology for its 55-inch television, but that claim was later refuted by other sources.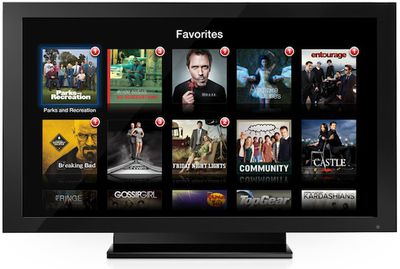 Last week, Piper Jaffray analyst and long-time Apple television set proponent Gene Munster offered his speculation on what Apple's plans might be, also suggesting that the company would be likely to introduce a range of sizes in order to appeal to customers with a broad range of sizes for their television needs.
The latest Smarthouse report doesn't specifically name the A6 system-on-a-chip as the planned brains for the Apple television set, but the claim of it being a "new processor" certainly seems to imply the A6. There has been some uncertainty about the A6 and the iPad 3, with reports indicating that the new iPad will launch in "early 2012" in line with previous years while confusion over whether TSMC or Samsung will produce the A6 has included claims that the chip will not be ready until June 2012.