SmartHouse
By MacRumors Staff
SmartHouse Articles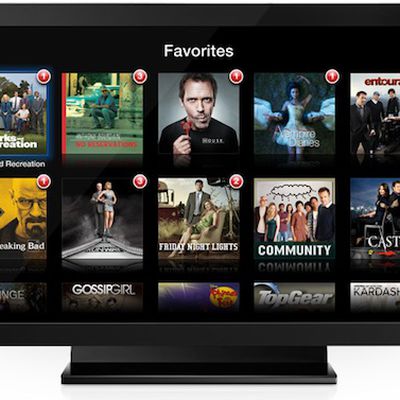 Smarthouse claims to have received word that Apple will be offering its rumored television set in three different sizes ranging from 32 to 55 inches, with the device being powered by the same "new processor" (presumably the A6) set to appear in the iPad 3.Sources at a major Japanese company who are involved in manufacturing the TV believe that the 55" model will compete with new Smart TVs from...
SmartHouse reports that LG is preparing to release a 15" display panel based on OLED technology, with the first appearance of the panel to be in a "brand new Apple notebook" in June. A senior executive at LG Display who has been closely involved in the development of display technology for Apple said "The early models will be double, if not triple, the price of an LCD panel however, over time they ...
In an article making a broad sweep of claims, SmartHouse revives rumors that Apple will be moving its computer and iPhone/iPod touch displays to OLED technology, claiming that a representative of display manufacturer LG has confirmed the news. According to the source, OLED technology will be making its way into Apple's entire lineup of displays, from notebooks and standalone displays to the...
Smarthouse suggests that Apple may try to get into the content production business. First, they claim that Apple is set to roll out a "massive marketing campaign" to push video iPods with the roll out of TV soaps and series to hook the customers on a recurring basis. According to "one insider", Apple has reportedly even looked into creating their own content but there have been concerns about ...
Fresh off the heels of Jesse Tortora's research note indicating that Apple would be interested in entering the video game market, Smarthouse.com.au is claiming that Apple has indeed indeed investigated entering the market. This week in Sydney the Vice President of Technology for Sony Computer Entertainment Europe, Paul Holman and I discussed the possibility of Apple entering the games market."...
Smarthouse.com.au claims that Apple has a full working prototype of a Mac tablet PC within their labs with plans for a 2007 launch. According to sources in Taiwan, the targets for this unreleased Mac tablet are expected to be home and education markets rather than the enterprise market. The Mac tablet has been designed to handle third party applications such as home automation software that...
According to Australian magazine Smarthouse, Apple has changed its iPod royalty model to a flat USD $4.00 price per unit sold to interface with Apple's dock connector. Originally, Apple charged 1.5% of the wholesale price but when the iPod took off and Apple began making their own accessories, third party manufacturers saw the royalty escalate to 10%. Apple has refused to comment on the fee....
Smarthouse.com.au reports that according to insiders at a Taiwanese phone maker (BenQ), Apple has been talking to a number of Taiwanese phone makers in an effort to cut a manufacturing deal on an iPod Phone. They say that Apple will launch an iPod with phone functions within the next few months. "An iPod phone is definitely coming. BenQ will not be making it as we are in competition with Apple...
SmartHouse.com.au revives one of the oldest Apple rumors by claiming that "Apple is set to announce an Intel based PC that will run on an Apple operating system." The first system is expected to be shown at MacWorld San Francisco 2004, with major developers, such as Adobe, already aware of the plan. The article touches on the issue that all software needs to recompiled, but expects a...