Speculation on Apple's Television Set: Range of Sizes, Device Integration, Premium Pricing
Piper Jaffray analyst Gene Munster has long been one of the strongest advocates for an Apple-branded television set, and with increasing claims of just such a product pointing to a launch as soon as the second half of next year, it seems that his persistent confidence in the idea may be panning out.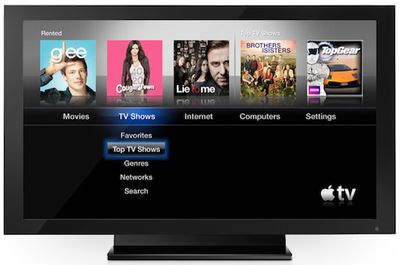 Keeping in mind that Munster does not have specific knowledge of Apple's ultimate plans for its television sets, he does have ideas about what he thinks Apple will do with the product. Business Insider reports that he shared some of those ideas at a conference this morning, going as far as to recommend that anyone thinking of buying a TV wait until Apple shows its hand. Among Munster's predictions:
- Full-fledged television set. Given that Apple seeks to streamline the user experience and its recognition that users don't really want yet another set-top box, Apple will almost certainly be going for an all-in-one solution. But given that Apple does not currently offer a full suite of television content offerings, most users will likely not be able to cut ties to their cable or satellite providers. Apple's TV will instead serve as an advanced interface that still draws upon the standard signal coming in from a cable box.
- Range of sizes and twice current pricing. Munster believes that Apple will introduce its television in a range of sizes, recognizing that customers have different needs. He also believes that Apple will price its television at approximately twice the prevailing market price of similarly-sized televisions. The price premium would cover the additional hardware and software necessary for integration with the Apple ecosystem while also preserving Apple's high profit margins in a competitive market.
- Simplicity and Apple's ecosystem. Aside from the rumored Siri voice-powered interface, Munster predicts that the Apple television will integrate with iOS devices and Apple's content ecosystem for video, games, and apps, serving as another hub for digital entertainment tied into Apple. The interface will likely include a traditional remote control, but also iPad and iPhone apps for controlling the set's features, as well as Siri voice control that seeks to remove much of the complexity of interacting with television sets. Users will simply be able to input or say "ESPN" to be taken to the sports channel rather than having to look up or remember the channel number.
In line with some of the other predictions and rumors, Munster sees the Apple television set making an introduction late next year, in time for the 2012 holiday shopping season.