Apple Online Store Tweaks: iPad Model Selection Layout, New 'In Stock' Status
Apple's online stores went down for several hours earlier today, and while the downtime did not bring any new products, it did see a few visible changes for the stores.
One immediately visible change is in the iPad model selection page, where Apple previously listed all 18 iPad 2 models available in the U.S. store. The company has replaced that system with a new, more dynamic process in which users first select a color, followed by a separate step in which they select a storage capacity and whether they wish to have 3G capacity. Users selecting a 3G model then proceed to a third step where they select whether they want an AT&T (GSM) or Verizon (CDMA) model.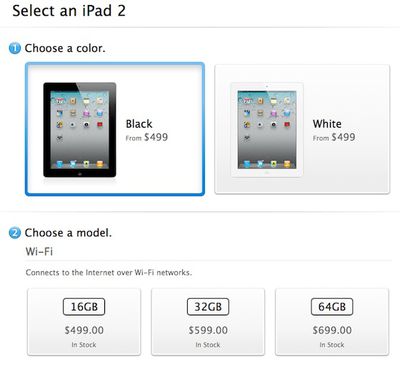 The change significantly reduces clutter on the selection page, where the sheer number of model choices led to potentially confusing mass of selection buttons. The new stepwise selection process streamlines the selection page while making it clear to customers the three criteria (color, capacity, connectivity) they need to decide upon.
In another change, Apple has replaced its previous "within 24 hours" shipping estimate status with a new "in stock" indicator on a store-wide basis. The two terms appear to be synonymous, with models offering longer shipping estimates continuing to list their availability in terms of business days until shipping.
Shipping estimates throughout Apple's online store mysteriously ballooned yesterday before returning to normal after a few hours. The issue may have been related to behind-the-scenes changes being made in preparation for today's tweaks to the store.