Shipping Estimates Throughout Apple's Online Store Suddenly Rise [Updated]
In a curious development first noticed in Apple's European online stores yesterday, shipping estimates for many of Apple's products have suddenly been extended, suggesting low supplies of these models. The changes showed up in the U.S. online store as well today, indicating that the issues are not specific to the company's European distribution channel.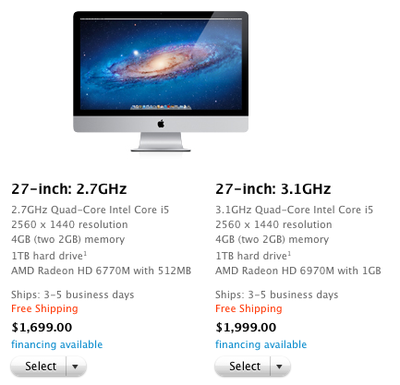 Tightening supplies are sometimes an indicator of Apple drawing down existing inventory ahead of product refreshes, but the extended shipping estimates are showing up on nearly all of Apple's products, many of which are not expected to see an imminent refresh. Current shipping estimates in the U.S. online store include:
- iPhone 4: 1-3 business days
- iPad 2: 2-3 weeks
- iPod touch: 3-5 days (8 GB and 32 GB), 1-3 days (64 GB)
- iPod nano: 3-5 days
- iPod shuffle: 1-2 weeks
- iPod classic: 1-3 days
- Apple TV: 3-5 days
- MacBook Air: 3-5 days
- MacBook Pro: 3-5 days for all models except low-end 13-inch, which remains at 24 hours
- iMac: 3-5 days
- Mac Pro: 3-5 days for all models except 12-core, which is at 2-4 days
Only the Mac mini appears unaffected by the extended shipping times, with all stock configuration of the Mac mini continuing to ship within 24 hours, Apple's usual goal for order turnaround. Shipping estimates do occasionally increase on certain products from time, but this type of across-the-board increase is very unusual for Apple.
Update: Shipping estimates on all main Mac, iOS, and traditional iPod products in the U.S. online store have returned to "within 24 hours", with the exception of the 12-core Mac Pro, which remains at 2-4 business days.