iOS 5 to Unlock Bluetooth Capabilities of Apple TV?
Apple's forthcoming iOS 5 contains code that, if activated, would allow users to connect a Bluetooth wireless keyboard to the second-generation Apple TV. The new Apple TV contains a combination Wi-Fi/Bluetooth chip, but the Bluetooth functionality is not enabled in its present state.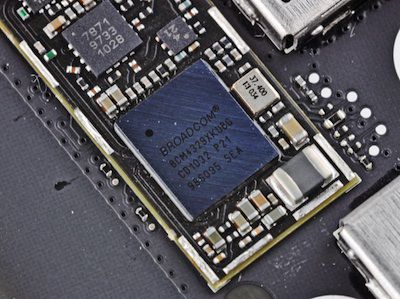 Broadcom Wi-Fi/Bluetooth chip in second-generation Apple TV (Source: iFixit)
As noted by
9 to 5 Mac
, the Apple TV iOS 5 beta contains Bluetooth activation strings such as:

- "Your Apple TV is paired with this %@"
- "The pairing attempt was unsuccessful. Make sure your device is in range of this Apple TV, turn on and 'discoverable.' When ready, click Continue to try again."
The ability to pair a Bluetooth keyboard with the Apple TV would obviously make for significantly easier text entry, simplifying such tasks as initial setup with iTunes Store accounts and Wi-Fi network passwords as well as day-to-day content searching.
But activation of the Apple TV's Bluetooth capabilities could also open the door to a host of other developments on the platform if Apple were to allow third-party apps on the Apple TV. Such possibilities include the ability to use other Bluetooth peripherals such as gaming controllers.
With the Apple TV running on the same iOS code base as the company's mobile devices, app development for the Apple TV should be a relatively straightforward process once design considerations for the lack of direct touch input and other differences in usage are accounted for. Apple CEO Steve Jobs even acknowledged at the time of the Apple TV's debut last September that the company could launch an App Store for the device when the time is right.