Apple to Focus on Streaming, Social and Geolocation Services With MobileMe Overhaul?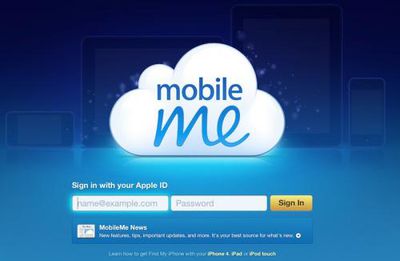 Cult of Mac reports
that it has received information from a source regarding Apple's efforts to
revamp its MobileMe service
, suggesting that the company is going well beyond simple cloud-based media streaming to include social and location-based services.
Among the many services Apple is working on are:
- A live video-streaming service like Ustream
- A location-based check-in system like Gowalla or Foursquare
- A geo-tagging system codenamed "Tokens" that tags real-world locations, like Facebook Places on steroids.
According to the report, the focus of the revamped MobileMe will be on a "dynamic webpage" that is constantly updated with the user's latest activity with their iOS device, from locations to photos and videos to music.
"The concept is that you would have you own website that's dynamic, all based on what you are doing at that moment," said our source. "Apple thinks of it as having a webserver in your pocket... everything will be dynamically updated to MobileMe."
With "Tokens", users would be able to tag GPS locations with photos, reviews, and other information that would be available to other MobileMe users visiting those locations.
While Apple is not known for being on the cutting edge of social networking and its Ping component of iTunes has struggled to catch on as a music-focused network, the company has clearly shown interest in developing social features, particularly when it comes to location-based technologies. Over a year ago, the company advertised for a software engineer who could help take the iOS Maps application "to the next level", while more recent job postings have hinted at integrated navigation software. And more recently, builds of iOS 4.3 have hinted at a feature called "Find My Friends" that could easily be a part of the rumored MobileMe revamp.
Differing schools of thought regarding a MobileMe revamp have arisen over the past few days, with some suggesting a very strong focus on true cloud-based services beaming data from Apple's servers to a variety of devices, while others have suggested that the user's own home computer will be the source from which data is disseminated to portable devices.