Apple's iOS Engineering Jobs Emphasize Navigation Software Experience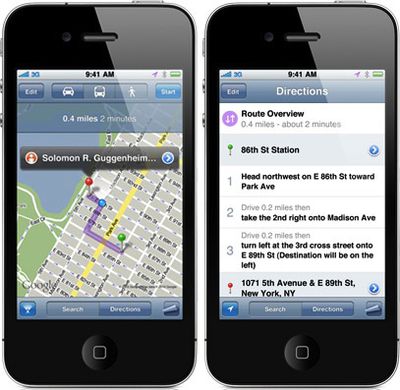 AppleInsider notes
that four identical job postings for iOS software engineers were posted on Apple's site yesterday, with each one noting "experience developing navigation software" as one of the "valuable knowledge" criteria by which Apple is looking to judge applicants.
Apple is hiring outstanding engineers to deliver the next generation of Apple products. Seize this ground floor opportunity to help us build the world's best hosted platforms at massive scale.
Requirements
* +3 years' experience with developing high quality, robust software systems
* Expert knowledge of C++
* Excellent problem solving and analytical skills
* Outstanding understanding of data structures and algorithms
* Fully comfortable with base technologies like networking, TCP/IP, HTTP, Sockets, Threads, STL and templates.
* Good interpersonal and communication skills
Valuable knowledge:
* Deep knowledge of Computational Geometry or Graph Theory
* Experience with Linux server-side development of distributed systems
* Experience developing navigation software
While the note is only one among a number of requirements and recommended attributes for job applicants and Apple has previously posted job listings soliciting expertise in maps and other geo-focused skills, the fact the company is hiring four core iOS engineers preferred to have experience specifically in navigation suggests that the company may be looking to make a push into the competitive field of turn-by-turn navigation.
Google introduced free turn-by-turn navigation for Android smartphones in late 2009 and at the time noted that it was working with Apple to bring the functionality to the iPhone. Google later backpedaled from those claims, noting that it has never confirmed that it will bring navigation to the iPhone.
Apple has increasingly looked to beef up its own mapping and geolocation services in an attempt to distance itself from Google, which has provided the core Maps application for the iPhone since the device's 2007 debut. Apple acquired mapping company Placebase in July 2009 and followed that up by purchasing small Canadian mapping firm Poly9 one year later. Apple also moved its location services for iOS in-house with the release of iOS 3.2 on the iPad in April of this year, separating itself from Google-owned Skyhook Wireless for such services.
In November 2009, we noted an Apple job posting specifically looking for an iPhone software engineer "to take Maps to the next level".