MacBook Air 'Ultimate' Configurations Benchmarked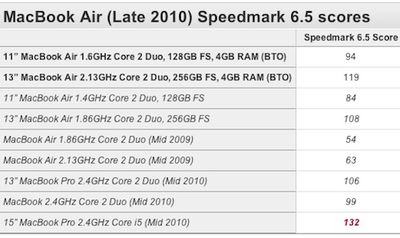 In a follow-up to its
benchmarks
for the new 11-inch and 13-inch MacBook Air models yesterday,
Macworld
has now gotten its hands on the
"ultimate" configurations
of the two sizes, allowing for testing on the higher-powered models offering faster processors and more RAM.
Our Speedmark 6.5 results show the BTO 11-inch MacBook Air topping its standard configuration version by 12 percent, overall. The biggest individual test gains were in iTunes encoding and our multitasking test, which were both 16 percent faster on the BTO 11-inch MacBook Air. Aperture was 14 percent faster, and iPhoto and HandBrake were both 13 percent faster.
The 13-inch MacBook Air BTO configuration was 10 percent faster than its stock configuration. Individual application highlights include Aperture and our multitasking tests that were both 15 percent faster, and iPhoto was 14 percent faster.
In the context of Apple's broader lineup, maxing out the 11-inch MacBook Air brings it within 5% of the current white MacBook on the Speedmark suite, while the top-end 13-inch MacBook Air healthily beats the standard 13-inch MacBook Pro despite the Air's slower processor. The maxed-out 13-inch MacBook Air remains about 10% slower than the standard 15" MacBook Pro with its significantly more powerful Core i5 processor, although that deficit is about half as wide as that seen with the standard 13-inch MacBook Air.