New Benchmarks Show 13-Inch MacBook Air Rivaling Its MacBook Pro Counterpart
Yesterday, we noted some early benchmarks for Apple's newly-revamped MacBook Air models, comparing performance of the new machines to earlier generations of the MacBook Air, the current 13-inch MacBook Pro, and the iPad. The Geekbench benchmarks included in the report, however, only tested processor and memory performance, omitting any benefit that might be gained from the graphics hardware and flash storage used in the new models.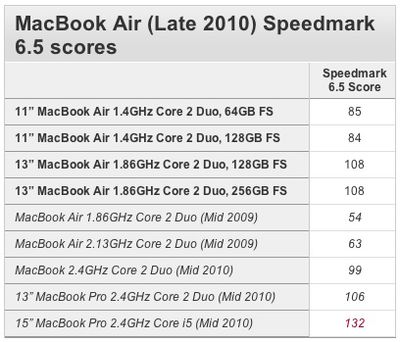 Macworld
has now published a
more thorough set of benchmarks
, offering a somewhat more real-world assessment of overall performance using its Speedmark 6.5 benchmarking suite and examining all four standard configurations of the new MacBook Air. Among the most interesting observations made in the study is that the new 13-inch MacBook Air actually slightly outperforms the current-generation 13-inch MacBook Pro, a machine that offers a significantly faster 2.4 GHz Core 2 Duo processor as compared to the MacBook Air's 1.86 GHz version. This comes despite the MacBook Air with its standard 2 GB of RAM being tested against the MacBook Pro with 4 GB of RAM.
The report also points to the significant improvement for the new 13-inch MacBook Air over the previous-generation models, particularly on processor-intensive tasks despite the older models offering equal or faster processors. Macworld attributes this difference to processor throttling imposed by Apple on the earlier models to deal with heat issues, something the company appears to have solved in the new models to allow the processors to run at closer to their full capacity.
When first released in 2008, the MacBook Air suffered from issues with heat, and Apple's approach to fixing the problem was to slow down the processor when things started to heat up, usually during processor intensive tasks. So even though you might have a 1.86GHz processor in your MacBook Air, it might be running much slower at times when you could really use the faster speed.
Looking at our benchmark results, it appears that these latest MacBook Air models (even with processor speeds that are slower than their predecessors) are running closer to their specified speeds, and therefore outperforming the "faster" processors that they replace.
Apple's 11-inch MacBook Air of course does not match the 13-inch model's performance in most areas, due to its slower 1.4 GHz processor, and of course neither machine is able to challenge the 15" MacBook Pro running a higher-end Core i5 processor, but the new 13-inch MacBook Air at least seems to be a worthy competitor to the 13-inch MacBook Pro, as well as the MacBook.