iPad Drives Apple to Third Place Among Global Portable Computer Manufacturers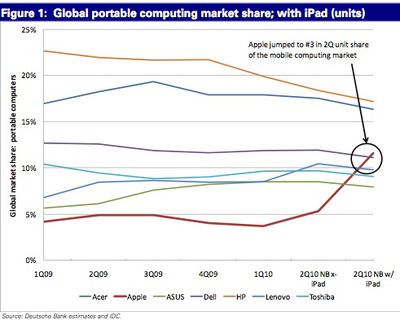 Fortune reports
on a new research report from Deutsche Bank analyst Chris Whitmore, which shows that if the iPad were to be categorized as a portable computer along with netbooks and notebooks, Apple would have held the third highest share of global portable computer sales for the second quarter of this year behind HP and Lenovo.
Apple's jump was driven by strong growth in its existing portables segment combined with a tremendous launch quarter for the iPad.
"When including the iPad as part of the NB [notebook] market," he writes, "Apple leapt over Asus, Lenovo, Toshiba and Dell in terms of global unit share."
Viewed this way, Apple goes from being No. 7 in the worldwide portable computer market to No. 3, after only Hewlett Packard (HPQ) and Acer. And it's not stopping there, says Whitmore.
According to Whitmore's data from retail stores, the shift continued into July, with the iPad continuing to cannibalize netbook and low-cost notebook PCs. He believes that investors will increasingly include tablets in their calculations of portable markets as consumers turn to the devices for many of the tasks for which they previously relied upon notebooks and netbooks, thus validating his view of Apple's performance during the quarter.