International iPad Launch Details: Apple Stores Opening Early, UK Third-Party Retailers, UK 3G Service From 3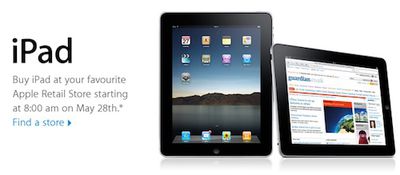 With Friday's launch of the iPad in nine new countries right around the corner, Apple and others are making preparations for the big day. On Apple's front, the company has announced that its retail stores in the launch countries will be opening at 8:00 AM to accommodate the expected crowds looking to get their hands on the company's tablet device. Eight of the nine countries seeing iPad launches on Friday have Apple-owned retail stores, with Spain being the only exception.
In the UK, a report from Times Online indicates that 139 retail stores owned by DSGi, including Currys, PC World, and Dixons Travel, will also be offering the iPad at launch
Meanwhile, UK wireless carrier 3 has announced two monthly recurring iPad 3G service plans priced at 7.50 (1 GB) and 15.00 (10 GB). Orange and O2 released UK data pricing earlier this month.
Numerous MacRumors readers who pre-ordered iPads in the nine new launch countries have reported over the past few days that their orders have shipped and are expected to be delivered on time.