Orange Announces UK Data Pricing for iPad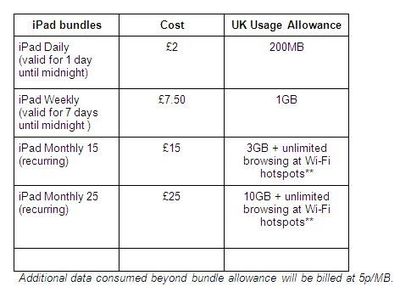 With Apple's
official announcement
of international availability for the iPad, Orange has
announced
pricing for its data service for 3G-capable iPad owners in the United Kingdom. The plans offer somewhat more flexibility in payment options than AT&T does in the United States, although Orange's monthly plans come in somewhat higher in price than AT&T's and Orange does not offer unlimited data packages.
Orange UK will offer tailored 3G data plans for iPad Wi-Fi + 3G, from 10th May, and will launch a pre-registration site for SIM's at Orange.co.uk/iPad. Pay-as-you-consume, daily, weekly and monthly data plans will be available, providing the freedom to choose a type of plan depending on usage.
Orange will offer a daily access fee with up to 200 MB of data for 2, and a weekly package priced at 7.50 with 1 GB of data. Recurring monthly plans are priced at 15 (3 GB) and 25 (10 GB), with both plans offering "unlimited" data at BT Openzone Wi-Fi hotspots. Orange will also offer "pay-as-you-consume" access priced at 5p/MB.
Orange is also rolling out iPad 3G service plans in France, Spain and Switzerland, with additional markets to come later this year.