Intel Demonstrates Light Peak Connectivity Standard Running on Laptop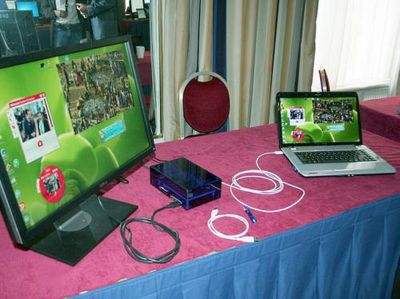 Notebook computer sending simultaneous video streams to external display via Light Peak
PC Pro reports
that Intel this week is showing off a laptop running the company's "Light Peak" connectivity standard initially offering transfer speeds of up to 10 Gbps in both directions. The company
previously demonstrated
the technology using a prototype Mac Pro motherboard last year, but has now reduced the required hardware to fit inside a laptop enclosure.
Intel's chief technology officer, Justin Rattner, claimed that the bandwidth afforded by the optical technology is practically unlimited. "Light Peak begins at 10Gbits/sec, simultaneously in both directions," he said. "We expect to increase that speed dramatically. You'll see multiple displays being served by a single Light Peak connection. There's almost no limit to the bandwidth - fibres can carry trillions of bits per second".
Intel envisions Light Peak as being able to replace USB, Firewire, and display connectors in the future, and notes that the hardware should become available to computer manufacturers by the end of this year. Given the initial demonstration using Mac Pro hardware and rumors that Apple played a role in the development of the technology, many observers expect Light Peak to quickly make its way into Macs.