Apple and Intel Collaborate on Next Generation 'Light Peak' Connectors?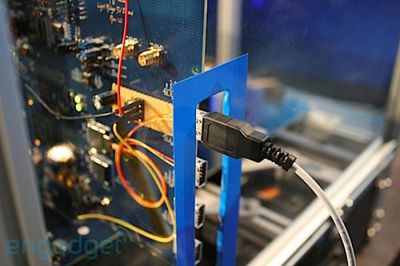 Last week,
Intel demoed
a new interconnect technology called "Light Peak" which promises to be a flexible high performance optical connector:
Intel just showed off a glimpse of the future: Light Peak, an optical interconnect for mobile devices that can run as fast as 10Gbps. That's fast enough to do everything from storage to displays to networking, and it can maintain those speeds over 100-meter runs, which is pretty astounding. Intel says the idea is to drastically reduce the number of connectors on mobile devices, which should allow them to get even smaller
The technology could eventually replace the use of Firewire, USB and even display connectors in the future. Engadget has since revealed that 'Light Peak' was actually originally conceived of by Apple and brought to Intel.
Apple had reached out to Intel as early as 2007 with plans for an interoperable standard which could handle massive amounts of data and "replace the multitudinous connector types with a single connector (FireWire, USB, Display interface)."
The original conversations happened between Apple's Steve Jobs and Intel's Paul Otellini. In fact, the technology was said to have been demoed last week on a prototype Mac Pro motherboard.
The new connector is rumored to be introduced into the Mac lineup in the Fall of 2010, with a low-power variant due in 2011 for mobile devices. Such a move could result in a single connectivity standard in the future, reducing the types of ports on a device to only this single one. The fact that various types of data including High Definition displays can be driven through the connector has led to some speculation that Apple could incorporate such a connector into their rumored tablet.