Opera Mini Browser for iPhone Being Demoed at Mobile World Congress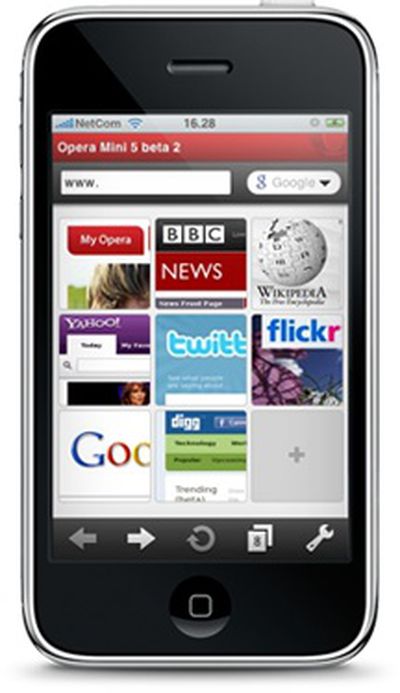 As previously reported, Opera Software has been showing off the iPhone version of Opera Mini browser at Mobile World Congress in Barcelona this week. Opera Mini is a mobile browser that uses Opera's compression and server-side technology to quickly deliver web pages to your phone. Macworld explains how the browser works:
How this client-server system works is that when you request a Web page in Opera Mini, the app sends the URL to an Opera server, rather than to the destination Web server. The Opera server actually sends the request to the Web server, and then downloads the page's content, processes any scripts or other dynamic content, and compresses the resulting page into Opera Binary Markup Language (OBML). The Opera server then sends the resulting "page" -- which is up to 90 percent smaller than the original Web page -- to the client on your phone.
The result of this server-assisted connection is faster load times than Apple's own Safari with claims up to 6 times faster.
Opera has yet to submit the application to Apple for approval, but seems to believe that Apple will approve it. The use of this server-sided processing gets around Apple's restriction of executing 3rd party code (such as Javascript) within an iPhone app. In Opera Mini's case, all of this processing happens on Opera's servers and a static page is then passed to your iPhone. No submission date has been announced.