Opera Set to Preview 'Opera Mini' Browser for iPhone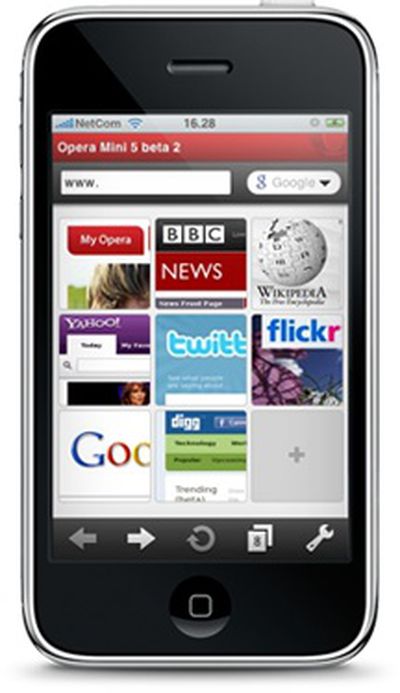 Opera Software today
announced
that it will preview an iPhone version of its Opera Mini mobile browser at next week's Mobile World Congress in Barcelona.
"This is a unique opportunity to introduce the fast, feature-rich Opera Mini experience for the iPhone, and to showcase our latest beta releases of Opera Mobile and Opera Mini on other platforms and devices. Opera's mission is to bring the Web to the world, and by making Opera Mini available on yet another platform, we are one step closer."
According to Reuters, Opera Mini for the iPhone has not been submitted to Apple for review, and it remains unclear whether Apple would consider approving a direct competitor to the iPhone's included mobile version of Safari.
"We have not submitted it yet to the Apple App Store. However, we hope that Apple will not deny their users a choice in Web browsing experience," said Jon von Tetzchner, co-founder of Opera.
Opera's compression technology is also claimed to allow six times faster downloads and ten times smaller data traffic than Apple's Safari for iPhone.
In addition to Opera Mini for the iPhone, the company is also planning to show off beta versions of its existing Opera Mini and Opera Mobile products on a variety of other platforms.