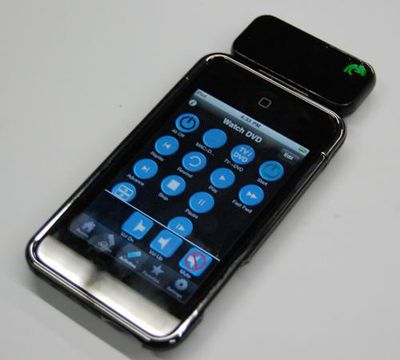 The NewKinetix IR adapter and app
In addition to the other accessories by iLuv and mophie here at CES that use the iPhone's dock connector to add functionality with a companion app, two infrared remote accessories made their debuts at CES. NewKinetix and L5 Technology both announced IR accessories that turn an iPhone or iPod touch into a universal remote to control TVs, cable boxes and other AV equipment.
The companion app for each device provides an on-screen button interface to control equipment via infrared with the ability to customize the button lay-out and learn the functions of other remotes directly. We saw the Rē by NewKinetix up close at CES - it offers a highly-customizable interface, allowing you to set control profiles for different rooms or locations and record macros to carry out multiple actions with the press of one virtual button in addition to button lay-out customization.
The IR adapter of the L5 Remote is a bit smaller than the one from NewKinetix though its app offers fewer features comparatively. Both devices are not yet available with planned releases in Q1. The NewKinetix Rē will cost $69.95 and the L5 Remote will cost $49.99 while the apps for each will be available for free in the App Store. Compared to universal remotes by Logitech and other companies that have a fixed button lay-out and can cost up to several hundred dollars, these iPhone/iPod touch accessories should provide viable alternatives to users at a lower cost.