CES 2010: iLuv and Mophie with App Integrated Accessories
CES, as a general technology event, doesn't offer a plethora of Apple-related news though plenty of Mac and iPhone/iPod-related accessories are in evidence on the show floor. While most accessories are not terribly exciting (many of the speakers, headphones, stands, cases, skins, bags, docks, etc. all start to look the same after a while), a couple of items stood out.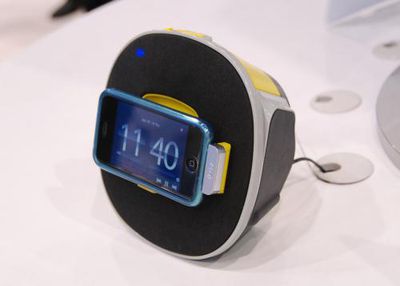 The first among these is an iPhone/iPod speaker dock by iLuv called the App Station. It works with the iPhone and iPod touch and requires a free app (not yet available) that turns the iPhone/iPod touch into an alarm clock in addition to displaying local weather information. The iPhone/iPod touch can also be rotated for video watching with sound output through the built-in speakers. We saw a demo of the app in action, though we were warned that the weather information feature was not working in the demo. The App Station will be available in February and will be priced at $129.
Meanwhile, Mophie debuted a new iPhone accessory that takes advantage of the dock connector and offers iPhone users a mobile payment system in the form of a magnetic strip reader at the bottom of a form-fitting hard case. The mophie marketplace requires mophie's free marketplace app (not yet available) and works with the iPhone 3G and iPhone 3GS. It will be available next month according to a company representative and pricing has not yet been finalized.
The mophie marketplace is one of the few devices that make use of changes announced to the iPhone SDK early last year that allowed developers to create apps that can interface with the device's hardware and connected 3rd-party accessories.