13" MacBook Pro Teardown and Unboxing Galleries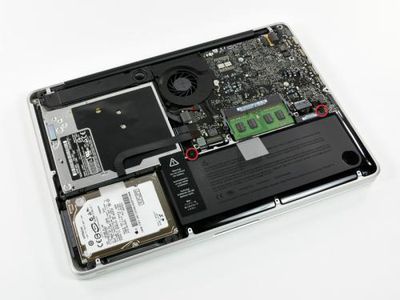 iFixit
posts the first teardown images of the new 13" MacBook Pro. iFixit notes the following changes from the previous 13" MacBook:
- No access door for the battery on the bottom.
- The addition of an SD card slot (and the omission of digital/mic port) is readily apparent.
- FireWire is back!
- Computer lock is now on the other side.
Meanwhile, Gizmodo and Engadget have both posted unboxing galleries for the new machines.
Just by looking at the 13 and 15-inch models together, you can tell that Apple was pretty much right when they said that they belong in the same family. The construction is almost identical. The only difference is that the 13-inch has one fewer audio jack and no side-board speakers, as been the case for the 13 for years now.
Apple released the new 13" MacBook Pro on Monday and dropped the entry price to $1199.