'The Beat Goes On' Rumor Roundup [Updated]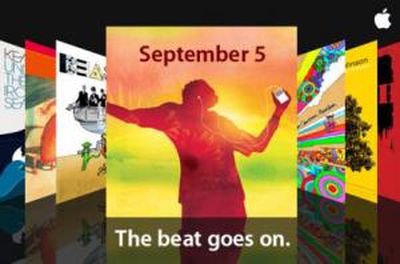 Last week, Apple sent out invitations for a media event on September 5th, 2007. The invitations pictured Apple's Cover Flow interface as well as a scene from the Mi Swing Es Tropical iPod ad. The caption on the invite reads "The beat goes on." Based on this alone, it seems clear that Apple will be updating their iPod line which has been long overdue.
In the months leading up to this event, however, we've seen a surprising amount of evidence pointing to specific changes to Apple's iPod line.
In evaluating rumors for accuracy, we typically rely on the previous accuracy of the source - whether its a website or an individual. Historically, however, the most telling sign of a rumor's legitimacy has been Apple Legal's involvement.
iPod Nano
Apple's legal team got involved in two specific instances in the past few months.
In July, we posted user interface videos for the upcoming iPod revision. The authenticity of the videos was the topic of much debate... until Apple asked several sites, including Youtube, to pull the videos. The video interface reflected a more animated interface, with the addition of several features such as Cover Flow and iPhoto Events.
In July, 9to5mac first posted a mockup of shorter/wider looking iPods. Though initially met with skepticism, ThinkSecret corroborated the design in late July. 9to5 later posted expected colors of the Nano as well as spy photos. The photos drew the attention of Apple Legal and resulted in a number of sites receiving cease and desist letters to remove the leaked photo. The photo essentially confirmed the shorter ratio of the upcoming Nano and led to a number of mockups.
While some will continue to argue that these interfaces and photos simply represent prototypes that Apple never intends to ship, we feel its far more likely that these do represent iterations of the new iPod Nano design which will be released tomorrow.
iPod Touch
If we assume that 9to5 had legitimate information about the iPod Nano, we should pay special attention to their claims of a full size iPod which they are calling the iPod Touch. This revision (mocked up here) claims to be a thicker, iPhone-like device with OS X with a 480x320 pixel screen.
Update: ThinkSecret claims that a 3.5inch display touch-screen iPod will take "center stage" at Apple's event tomorrow.
Wireless
Last week, we initially reported on the possibility of wireless connectivity in the iPod. This week additional reports have claimed that Wifi and possibly digital radio will be coming to the new iPods.
Based on the increasing number of reports as well as tidbits we've heard, it seems very likely that the iPods will finally gain some wireless connectivity.
Other
Other possibilities tossed around include Ringtones, Beatles, (RED) Shuffle, and Apple producing its own content.
Coverage
We will not be able to provide MacRumorsLive coverage for this event, but will link to other sources of live coverage as the event approaches.
We also offer the following options:
- SMS Updates for those unable to watch the event live.
- Spoiler Free Keynote Stream for those who want to watch the keynote and be surprised.
MacRumors.com will be updated during the event with new announcements, and our forums will remain open for live reaction and discussion about the announcements.