iMac
Recently updated with Haswell chips.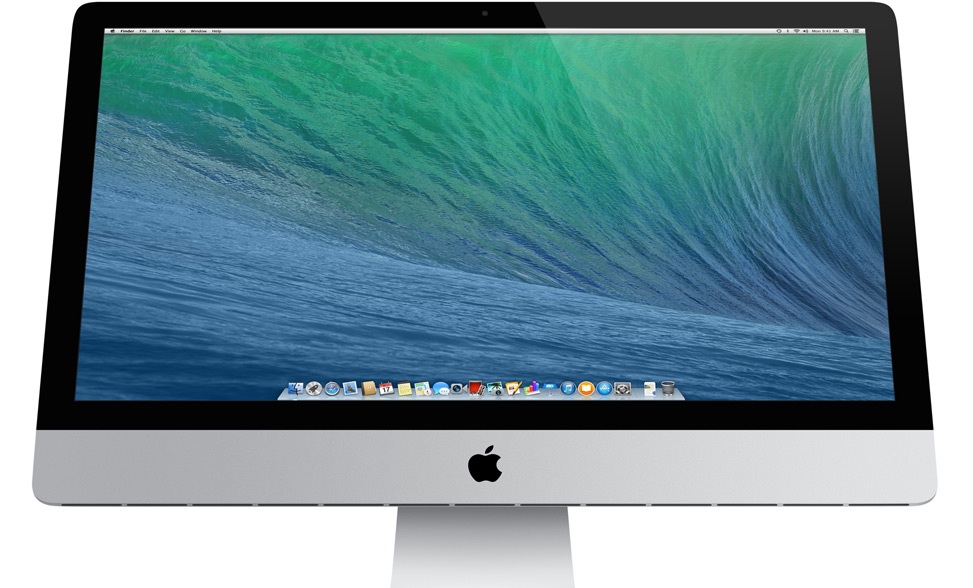 At a Glance
Apple's iMac is an ultra-thin all-in-one desktop computer, available in 21.5- and 27-inch sizes with an array of build-to-order upgrades.
Current Specs
Quad-core Haswell processors
802.11ac Wi-Fi
PCIe flash storage options
8 GB+ RAM
1 TB+ hard drive
Models
21.5-inch with 1920x1080 Display: - $1299: 2.7 GHz Core i5 & Iris Pro - $1499: 2.9 GHz Core i5 & GT 750M 27-inch with 2560x1440 Display: - $1799: 3.2 GHz Core i5 & GT 755M - $1999: 3.4 GHz Core i5 & GTX 775M
What's New
Apple somewhat unexpectedly refreshed its iMacs on September 24, 2013, announcing the update via a press release rather at the October media event where the company debuted refreshed iPad and Mac models. The new iMac models feature Intel's Haswell processors (up to 3.5GHz) with the 21.5-inch entry level model also sporting high-performance Iris Pro integrated graphics.
The high-end 21.5-inch model and both 27-inch models come equipped with NVIDIA 700 series graphics, which offer twice as much video memory and 40 percent faster performance than the previous NVIDIA 600 series. The top-of-the-line 27-inch iMac can be upgraded with an NVIDIA GTX 780M graphics card with 4 GB of memory.
iMac continues to be the example that proves how beautiful, fast and fun a desktop computer can be. Inside its ultra-thin aluminum enclosure, the new iMac has the latest Intel processors, faster graphics, next generation 802.11ac Wi-Fi and faster PCIe flash storage.

Phil Schiller, Apple SVP of Marketing
All of the iMacs now come with 802.11ac Wi-Fi, and when connected to one of Apple's new 802.11ac base stations, wireless performance is three times faster than with 802.11n. 802.11ac supports a theoretical transfer rate of 1.3 gigabits per second, a huge improvement over the 450 megabits per second of 802.11n.
While the iMacs all come equipped with a traditional 1 TB Serial ATA hard drive, they can be upgraded with either a Fusion Drive or pure flash storage. First introduced last year, Apple's Fusion Drive system combines a relatively small amount of flash storage with a traditional spinning hard drive, offering in large amounts of storage with faster performance. Frequently used items are kept ready in flash storage, while infrequently accessed items are stored on the slower traditional hard drive.

Apple's flash storage options (including its Fusion Drives) are now PCIe-based, resulting in much faster read/write times. In the MacBook Air, the PCIe flash storage had read/write times of almost 800 MB/s, a major improvement over the previous generation.
Other iMac Features
The iMac was redesigned in 2012, and the late 2013 update retains the same "ultra-thin" design, just 5 mm thick at the edge. The display remains the same as well, incorporating a fully laminated design that improves optical quality. There's also an anti-reflective coating to cut down on glare.
There are four USB 3.0 ports, two Thunderbolt ports, an SDXC card slot, and a mini DisplayPort, along with dual microphones, a headphone port, and stereo speakers.
Build-to-Order Options

The 21.5-inch model can be upgraded with a 3.1GHz Core i7 processor and up to 16 GB of RAM while the 27-inch model can be upgraded with a 3.5GHz Core i7 processor and up to 32 GB of RAM.
Storage options of up to 3 TB traditional hard drive, 3 TB Fusion Drive, and 1 TB PCIe flash storage are also available depending on the model.
The high-end 27-inch model is able to be upgraded with an NVIDIA GeForce GTX 780M graphics card with 4GB of GDDR5 memory.
Operating System
While the first iMacs to ship out in September included Mountain Lion, iMacs shipping today will offer Apple's newest operating system, OS X 10.9 Mavericks.
iMac owners originally running Mountain Lion are able to upgrade to Mavericks at no cost, as Apple elected to make its newest operating system available for free to all users.
Mavericks includes more than 200 new features, including a revamped Finder with tags and tabs, Safari improvements, and better multi-display support.
How to Buy
The new iMacs can be purchased from the online Apple Store, from an Apple retail location, or from select Apple Authorized Resellers. At this time, all 21.5-inch models and 27-inch models are shipping within 24 hours.
Refurbished models of the late 2013 21.5-inch and 27-inch iMac recently became available and can be purchased from the refurbished section of Apple's website at a discount.
What's Next
Apple may be planning to release a lower-cost iMac in 2014, according to KGI securities analyst Ming-Chi Kuo, who outlined Apple's 2014 plans in a recent product roadmap. A less expensive iMac could boost shipments by up to 30 percent, helping Apple compete with companies like HP and Lenovo, and increase market share in Asia.
An update to the existing iMac could be in the works as well, with Intel planning to release an update to its desktop Haswell processors in May. The processors offer a 100 MHz clock speed boost and are a direct successor to most of the chips currently used in the iMac.