iMac
New 27-inch Retina model debuted October 16.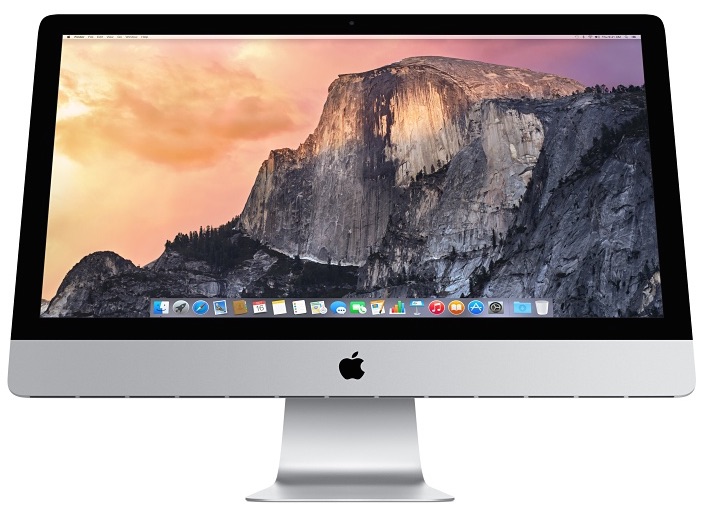 At a Glance
Apple's iMac is an ultra-thin all-in-one desktop computer, available in 21.5- and 27-inch sizes with an array of build-to-order upgrades. Apple added a new "Retina 5K" version of the 27-inch model at its October 2014 media event, while the rest of the lineup remained unchanged.
Retina Model Specs
5120 x 2880 display
Up to 4.0 GHz Haswell processor option
AMD discrete graphics on 27-inch model
Pricing starts at $2499
What's New
At its October 16, 2014 media event, Apple introduced the new 27-inch iMac with Retina 5K Display. Starting at $2499, the new iMac is an addition to the previous lineup and includes a 5120 x 2880 display. The remainder of the lineup is unchanged in specs or pricing.
The new Retina iMac is very similar to the non-Retina version in most respects, with the obvious exception of the display and higher-end processor and graphics options to help drive the massive screen. As had been rumored, the Retina iMac adopts AMD graphics and high-end Haswell processors as Intel has yet to launch its next-generation Broadwell chips.
Rumors accurately suggested at least the 27-inch model will move to a Retina display at 5120 x 2880 pixels, but it did not appear a similar upgrade was in store for the smaller 21.5-inch model, and that did turn out to be the case. A Retina update for the 21.5-inch machine could appear in 2015.
References to all-new iMac models first began appearing in OS X Mavericks 10.9.4 betas earlier this year, but the release schedule at that time was unclear. Apple's brand-new operating system launching alongside the new iMacs, OS X Yosemite, also suggested that Retina iMacs may be in the works. A file included in the OS offers a series of resolution options for a machine identified as an iMac, maxing out at 6400 x 3600 pixels, or 3200 x 1800 as a Retina display.
In September, the new Displayport 1.3 specification was finalized, which also helped put Retina iMacs and displays in reach as it offers a 50 percent increase in bandwidth to 32.4 Gbps, or 25.92 Gbps of uncompressed video data once overhead is accounted for.

While previous iMacs have supported a feature known as target display mode, allowing them to serve as external displays for other computers, the new iMac with 5K Retina display does not support this mode
This is because Apple's latest Macs are not capable of handling the bandwidth necessary for 5K video over a single cable, which means target display mode is unlikely to be offered until the DisplayPort 1.3 standard is available in late 2015 or early 2016.
Along with upgraded Haswell processors and a 5K display, the new Retina iMac also boasts two Thunderbolt 2 ports, and an AMD Radeon R9 M290X graphics processor that's upgradeable to an AMD Radeon M295X. Aside from those upgrades, the rest of the Retina iMac's features are the same as its non-Retina siblings.
Retina iMac Performance
Geekbench benchmarks for the new Retina iMacs suggest that the new machines offer slight performance increases over non-Retina iMacs released in 2013. Both single-core and multi-core benchmarks of the 3.5 GHz Core i5 27-inch 5K Retina iMac showed minor improvements over the 3.4 GHz Core i5 processor used in the late 2013 iMac.

The high-end 4.0 GHz Core i7 27-inch 5K Retina iMac outperformed the 3.5 Ghz Core i7 non-Retina 27-inch iMac, scoring 11-13 percent faster in both multi-core and single-core tests, and it also achieved a higher score on the multi-core benchmark than the low-end four-core 2013 Mac Pro.

Both of the Retina iMac processor options outperform all Mac Pro models on single-core performance, but that is not surprising as the Xeon processors in the Mac Pro sacrifice single-core clock speed for many more cores.
Non-Retina Models
Aside from the low-end model introduced in June of 2014, which actually features an ultra-low voltage Intel processor also used in the MacBook Air, Apple last refreshed its regular iMac line on September 24, 2013, announcing the update via a press release rather at the October media event where the company debuted refreshed iPad and Mac models. These iMac models, which were not updated alongside the introduction of the Retina option in October 2014, feature Intel's Haswell processors (up to 3.5GHz) with the 21.5-inch low-end models sporting Iris Pro or Iris 5000 integrated graphics rather than a discrete graphics chip.
The high-end 21.5-inch model and both 27-inch models come equipped with NVIDIA 700 series graphics, which offer twice as much video memory and 40 percent faster performance than the previous NVIDIA 600 series. The top-of-the-line 27-inch iMac can be upgraded with an NVIDIA GTX 780M graphics card with 4 GB of memory.
iMac continues to be the example that proves how beautiful, fast and fun a desktop computer can be. Inside its ultra-thin aluminum enclosure, the new iMac has the latest Intel processors, faster graphics, next generation 802.11ac Wi-Fi and faster PCIe flash storage.

Phil Schiller, Apple SVP of Marketing
All of the iMacs now come with 802.11ac Wi-Fi, and when connected to one of Apple's new 802.11ac base stations, wireless performance is three times faster than with 802.11n. 802.11ac supports a theoretical transfer rate of 1.3 gigabits per second, a huge improvement over the 450 megabits per second of 802.11n.
While all iMacs with the exception of the new low-end model (500 GB) come equipped with a traditional 1 TB Serial ATA hard drive, they can be upgraded with either a Fusion Drive or pure flash storage. First introduced last year, Apple's Fusion Drive system combines a relatively small amount of flash storage with a traditional spinning hard drive, offering in large amounts of storage with faster performance. Frequently used items are kept ready in flash storage, while infrequently accessed items are stored on the slower traditional hard drive.

Apple's flash storage options (including its Fusion Drives) are now PCIe-based, resulting in much faster read/write times. In the MacBook Air, the PCIe flash storage had read/write times of almost 800 MB/s, a major improvement over the previous generation.
Other iMac Features

The iMac was redesigned in 2012, and the current models retain the same "ultra-thin" design, just 5 mm thick at the edge. The display remains the same as well, incorporating a fully laminated design that improves optical quality. There's also an anti-reflective coating to cut down on glare.
There are four USB 3.0 ports, two Thunderbolt ports, an SDXC card slot, and a mini DisplayPort, along with dual microphones, a headphone port, and stereo speakers.
Build-to-Order Options
The new low-end 21.5-inch model is only minimally configurable, with storage upgrades being the only option. The low-end iMac's 8GB of RAM is not upgradeable. The higher-end 21.5-inch models can be upgraded with a 3.1GHz Core i7 processor and up to 16 GB of RAM while the 27-inch model can be upgraded with a 3.5GHz Core i7 processor and up to 32 GB of RAM.
Storage options of up to 3 TB traditional hard drive, 3 TB Fusion Drive, and 1 TB PCIe flash storage are also available depending on the model.
The high-end 27-inch model is able to be upgraded with an NVIDIA GeForce GTX 780M graphics card with 4GB of GDDR5 memory.
iMac Buyer's Guide
Tempted by Apple's new iMac and thinking about purchasing one? Make sure to check out our iMac Buyer's Guide before you buy, which walks you through all of the Retina iMac's features and how it measures up to other Apple computers like the Mac Pro.
How to Buy
Best Prices





What's Next
Apple introduced the 27-inch Retina iMac in 2014, but its 21-inch models have remained untouched. It's possible that we will see both a refreshed 27-inch Retina iMac with a Broadwell processor in 2015, as well as 21-inch Retina models. Broadwell chips suitable for the iMac are not launching until mid-2015, pointing towards a potential fall release for new iMacs.
LG Display, one of Apple's manufacturing partners, briefly mentioned an iMac with an 8K display on its company blog, stating: "Apple has also announced that they will release the 'iMac 8K' with a super-high resolution display later this year." Apple has not announced an 8K iMac and 8K displays are not expected until 2016, so it's likely the post was made in error. LG later removed the reference to an iMac 8K.
In mid-April, iMac shipping estimates slipped to three to five days, but the reason behind the change in shipping estimates remains unclear as chips for Broadwell updates are not yet available.