iPhone 11
Apple's two-year-old iPhone that's still available as a lower-priced option, featuring a dual-lens camera, an array of color options, and more.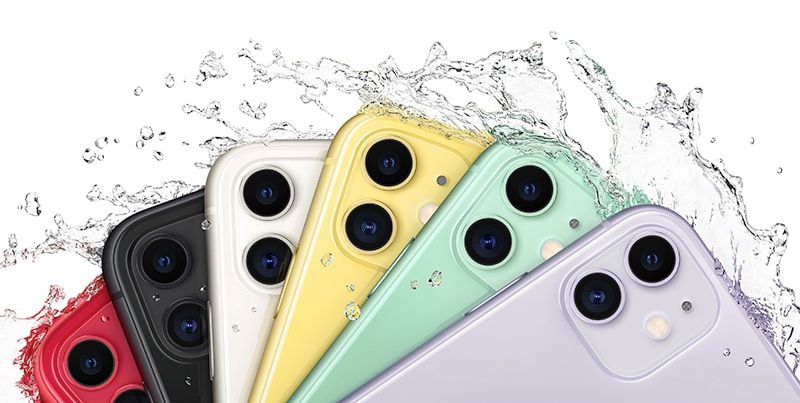 iPhone 11
Apple unveiled the iPhone 11 in September 2019, and it was available as a low-cost option for several years after that, but the iPhone 11 has since been discontinued and it is no longer available from Apple.
The iPhone 11 succeeded the iPhone XR, and it features a 6.1-inch LCD display that Apple calls a "Liquid Retina HD Display." It features a 1792 x 828 resolution at 326ppi, a 1400:1 contrast ratio, 625 nits max brightness, True Tone support for adjusting the white balance to the ambient lighting, and wide color support for true-to-life colors.
Like the iPhone XR before it and other recent iPhone models, the iPhone 11 does not include 3D Touch, instead using Haptic Touch. Haptic Touch is supported across iOS, but it lacks the pressure sensitivity of the 3D Touch feature Apple previously supported.
Design wise, the iPhone 11 features a glass body that comes in six different colors: White, Black, Yellow, (PRODUCT)RED, Purple, and Green.
The iPhone 11 doesn't look much different than the iPhone XR that preceded it, but at the time of the iPhone 11's introduction, Apple said it was made from the toughest glass ever in a smartphone at the time and offered improved water resistance (IP68) that has become the standard for iPhones, boosting overall durability. Spatial audio offers a more immersive sound experience, and Dolby Atmos is supported.
While it can't match up to Apple's latest iPhones, the camera system on the iPhone 11 sets it apart from the XR, with Apple introducing a new dual-lens camera that was an improvement over the prior single-lens camera. The camera setup features a standard wide-angle camera and an ultra wide-angle camera with a 120 degree field of view. Unlike the larger Pro and Pro Max phones in Apple's recent lineups, there is no telephoto camera lens on the iPhone 11.
Apple says the ultra wide-angle camera captures four times more scene than the standard wide lens, making it ideal for landscape photos, architecture images, tight shots, and more. Both of the cameras work together to enable Portrait mode for people, pets, objects, and more, an upgrade over the iPhone XR that only supported person shots in Portrait mode.
The camera interface on the iPhone 11 was overhauled with a more immersive experience that lets you see and capture the area outside of the frame using the ultra wide-angle camera if desired. 2x optical zoom out is supported, as is digital zoom up to 5x.
Apple added a new Night mode that's designed to use the iPhone's processing capabilities and the new wide camera sensor to capture crisp, clear, bright photos even in very low lighting conditions, similar to the Night Sight mode on Google Pixel devices.
Next-generation Smart HDR takes advantage of machine learning to capture more natural-looking images with improved highlight and shadow detail, and in iOS 13.2, Apple introduced a Deep Fusion feature that uses advanced machine learning techniques for pixel-by-pixel processing of photos, optimizing for texture, details, and noise. All in all, the iPhone 11 offered much improved photographic capabilities over the XR and remains a capable photo device two years later.
4K video recording with extended dynamic range is available at 24, 30, or 60fps, and both of the cameras in the iPhone 11 can be used for recording video, with live swapping available using a simple tap.
A QuickTake video mode lets you hold down on the shutter button in the Camera app to automatically record video with subject tracking, and an Audio Zoom feature matches the audio to the video framing for more dynamic sound.
The front-facing TrueDepth Camera system was updated with a 12-megapixel camera, and made Face ID up to 30 percent faster and able to work from more angles. For the first time, it added supported for 120 fps slo-mo video, allowing users to capture slo-mo selfies, aka "slofies." The TrueDepth camera also supports next-generation smart HDR for more natural-looking photos and it can record 4K video at 60 fps.

Inside the iPhone 11, there's an A13 Bionic 7-nanometer chip along with a third-generation Neural Engine. At its introduction, Apple said the A13 Bionic was the fastest chip ever in a smartphone with 20 percent faster CPU and GPU than the A12. Machine Learning Accelerators in the A13 allow the CPU to deliver more than 1 trillion operations per second, and the Neural Engine is faster than in prior chips for real-time photo and video analysis.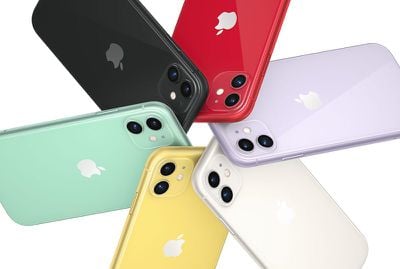 When it comes to battery life, the iPhone 11 lasts for one hour longer than the iPhone XR. It supports up to 17 hours of video playback, up to 10 hours of streamed video playback, and 65 hours of audio playback, though it does not match the battery life of some of Apple larger iPhone models. Fast charging is available, but the iPhone 11 only ships with a USB-C to Lightning cable and so extra equipment is required for fast charging.
The iPhone 11 features an Intel modem chip with Gigabit-class LTE, 2x2 MIMO, and LAA, Wi-Fi 6 support (802.11ax) with 2x2 MIMO, Bluetooth 5.0, Dual-SIM with eSIM, and an Apple-designed U1 Ultra Wideband chip that improves spatial awareness and allows for better indoor tracking. In iOS 13.1, the chip gained support for directionally aware suggestions for AirDrop so you can drop files to a person you point your iPhone at.
Note:
See an error in this roundup or want to offer feedback?
Send us an email here
.
How to Buy
How to Buy iPhone 11
The iPhone 11 is available from the Apple online store, Apple retail locations, and third-party retailers. The iPhone 11 is priced starting at $499 for the 64GB model and there's also a 128GB model for $549, but a previous 256GB model has been discontinued. Apple in February 2021 began selling refurbished iPhone 11 models and they are currently available starting at $419.
Design
Like the prior iPhone XR, the iPhone 11 features a precision-machined 7000 series aluminum frame that wraps around an all-glass enclosure. With its 6.1-inch display, the iPhone 11 is between the 5.4-inch "mini" iPhone models like the iPhone 13 mini and Apple's larger models like the 6.7-inch iPhone 13 Pro Max in size.

The iPhone 11 has an edge-to-edge display with slim bezels and no Home button, adopting a notch at the top for the TrueDepth camera system. Because it uses an LCD instead of OLED display, the iPhone 11 has slightly thicker bezels than Apple's other recent OLED-based models.

Other than the notch at the top for the Face ID camera, speaker, and ambient light sensor, the iPhone 11 is all display.

The iPhone 11 measures 150.9mm tall, 75.7mm wide, and 8.3mm thick, which is identical to the previous-generation iPhone XR. It weighs in at 6.84 ounces, also identical to the XR.

The back of the iPhone 11 featured the most significant design change over the XR thanks to the addition of the dual-camera system. The iPhone 11 added a square-shaped camera bump that flows into the rest of the device. The two camera lenses protrude slightly from the back of the iPhone as the camera elements are thicker than the body of the iPhone.
The Apple logo on the iPhone 11 was relocated relative to previous iPhone models. It moved to the middle of the device rather than towards the top, a change that may have been implemented for a planned two-way charging feature that was later scrapped. The bilateral wireless charging option would have allowed the iPhone 11 to be used to charge other iPhones, the Apple Watch, the AirPods, and other Qi-based devices.
More Durable Glass
According to Apple at the device's introduction, the iPhone 11 was made from the most durable glass ever in a smartphone at the time, so in theory, it should hold up better to accidental bumps and drops than earlier models. It's still glass, though, so it's best to use a case or have AppleCare+ in case of accidental damage.

Apple says it's using a "dual ion-exchange process" to strengthen the front and back glass of the iPhone 11.
Color Options
The iPhone 11 is available in six colors, but Apple introduced new colors compared to the previous-generation iPhone XR. It comes in black, green, yellow, purple, (PRODUCT)RED, and white, with Apple eliminating the coral and blue shades that the iPhone XR was available in.

Water and Dust Resistance
The iPhone 11 has an IP68 water resistance rating, which is up from IP67 in the previous-generation iPhone XR. It's rated to survive a depth of up to two meters (6.5 feet) for up to 30 minutes. Two meters is double the depth rating of the iPhone XR, but less than some more recent iPhone models.

With an IP68 water resistance rating, the iPhone 11 can withstand splashes, rain, and brief accidental water exposure, but intentional water exposure should be avoided. Apple warns that water and dust resistance are not permanent conditions and deteriorate as a result of normal wear.
Apple's warranty does not cover liquid damage to iOS devices so it's best to use caution when exposing the iPhone 11 to liquids.
Spatial Audio and Dolby Atmos
The iPhone 11 is built with a spatial audio feature that's designed to simulate surround sound for a more immersive audio experience. It also supports Dolby Atmos sound.
Display
Like the iPhone XR, the iPhone 11 uses an LCD display that it calls the "Liquid Retina HD" display. It measures in at 6.1 inches and features a 1792 x 828 resolution at 326 pixels per inch.
Though the iPhone 11 has an LCD instead of OLED display, Apple said it was the most advanced LCD that had been introduced in a smartphone, constructed with new engineering techniques. It is identical to the display in the iPhone XR, and is inferior to the OLED displays in Apple's newer iPhone models.

The iPhone 11 display continues to support Apple's technology advancements including Tap to Wake to activate display with a single tap, a swipe-based gesture system to replace the Touch ID Home button, True Tone for matching the white balance of the display to the ambient lighting, and wide color for vivid, true to life colors.

It has a 1,400:1 contrast ratio, which is one of the areas where it falls far short of OLED-based models. The iPhone 12 and 13 lineups have a 2,000,000:1 contrast ratio, which means their colors are richer, blacks are blacker, and there is HDR support, which is unavailable in the iPhone 11.
Haptic Touch
Apple eliminated the 3D Touch feature in the iPhone XR and replaced it with a new Haptic Touch option, which rolled out to the entire 2019 iPhone lineup and has been included in every flagship iPhone since.
Haptic Touch is similar to 3D Touch and offers much of the same functionality, but it is not pressure-sensitive so there are not multiple functions for each press. Instead, Haptic Touch is like a long press with haptic feedback. For more on the difference between Haptic Touch and the previous 3D Touch, make sure to check out our Haptic Touch guide.
A13 Bionic
The iPhone 11 is equipped with an A13 Bionic chip that's faster and more efficient than the A12 Bionic chip in the iPhone XR. The CPU's two performance cores in the A13 are up to 20 percent faster and use 30 percent less power than the A12, and the four efficiency cores are up to 20 percent faster and use up to 40 percent less power.

The GPU in the A13 is 20 percent faster than the GPU in the A12 and it uses 40 percent less power.
According to testing by AnandTech, the A13 in the iPhone 11 and 11 Pro offers 50 to 60 percent higher sustained graphics performance than the iPhone XS and 20 percent faster CPU performance.
As a two-year-old chip, it can't match the performance of Apple's newer A14 and A15 chips, but it still performs well.
Neural Engine
The A13 chip features an 8-core Neural Engine that Apple says is faster than before for real-time photo and video analysis. A pair of Machine Learning Accelerators allow the CPU to run up to six times faster the previous generation, delivering more than 1 trillion operations per second.
The Neural Engine is up to 20 percent faster and uses up to 15 percent less power than the previous-generation Neural Engine. Apple says its Neural Engine powers the camera system, Face ID, AR apps, and more.
Core ML 3 for developers allows apps to leverage the power of the A13 Bionic for apps and games.
RAM and Storage Space
The iPhone 11 is equipped with 4GB RAM, up from 3GB RAM in the iPhone XR. It is available in 64 and 128 GB capacities, with an original 256GB option having been discontinued as the iPhone 11 moved down Apple's pricing matrix.
TrueDepth Camera and Face ID
Face ID, introduced in 2017, is the biometric authentication system used in the iPhone 11, which features a notch housing the TrueDepth camera system that enables Face ID.
In the iPhone 11, the TrueDepth camera system has been improved with new hardware. It was faster than before and able to work from a wider range of angles, so it's more efficient and quicker than in previous iPhone models.

Face ID is used across iOS for tasks like unlocking your iPhone, allowing access to third-party passcode-protected apps, confirming purchases in iTunes and the App Store, and authenticating Apple Pay payments.
Face ID works through a set of sensors and cameras built into the front of the iPhone 11, called the TrueDepth Camera system. To create a facial scan, a Dot Projector projects more than 30,000 invisible infrared dots onto your face, which are then read by an infrared camera.
This depth map of your face is then relayed to the A13 Bionic processor where it is transformed into a mathematical model that the iPhone uses to make sure it's you attempting to access your iPhone.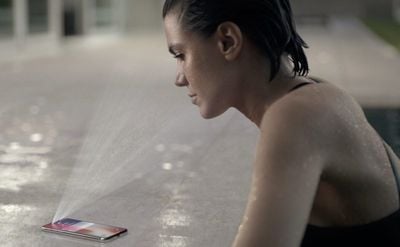 Face ID uses infrared, so it works in low light and in the dark, with a built-in Flood Illuminator making sure there's always adequate light to take a facial scan. Face ID works with hats, beards, glasses, sunglasses, scarves, makeup and all other accessories and items that might partially obscure a face, but it does need to see your eyes, nose, and mouth to work.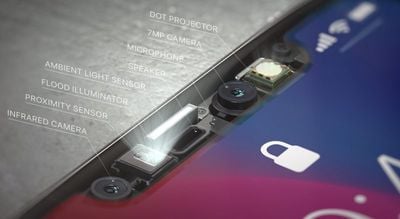 The A13 Bionic chip with built-in Neural Engine means that Face ID can adjust to minor facial changes over time, so if you grow your hair longer or grow a beard, Face ID adjusts and continue to unlock your iPhone.
Face ID Security and Privacy
Face ID uses a detailed 3D facial scan that's unable to be fooled by a photo, mask, or other facial imitation. An "Attention Aware" security feature allows Face ID to unlock your device only when you look in the direction of the iPhone 11 with your eyes open, so it does not work when your eyes are closed, when you're sleeping, when you're unconscious, or when you're looking away from your phone.
Attention aware is optional and there is an accessibility feature to turn it off for those who are unable to focus on the iPhone's screen, but most people should leave it turned on for the added layer of security.
With the attention-aware feature, the iPhone 11 knows when you're looking at it. Face ID displays notifications and messages on the Lock screen when you look at the iPhone 11, it keeps the screen lit, and it automatically lowers the volume of an alarm or ringer when it knows your attention is on the iPhone 11's display.
If a thief demands your iPhone, Face ID can be disabled quickly and discretely by pressing on the side button and the volume button at the same time. Do this before handing your phone over, and a thief won't be able to scan your face. Face ID also turns off after two failed facial recognition attempts and a passcode needs to be entered for it to be turned back on.
Face ID data is encrypted and stored in the Secure Enclave on the iPhone 11. Apple can't access your Face ID data, nor can anyone who has your phone. Authentication happens entirely on your device, with no Face ID data ever stored in the cloud or uploaded to Apple. Third-party developers do not have access to the facial map that Face ID uses to unlock a device, but the TrueDepth camera can be used to scan a user's face for the purpose of creating more realistic augmented reality apps.
With Face ID, there's a 1 in 1,000,000 chance that someone else's face can fool Face ID, but the error rate increases to 1 in 1 in 500,000 with an alternate appearance registered in iOS 13. Face ID has been fooled by identical twins, children, and a carefully crafted mask, but it's still secure enough that the average person shouldn't worry about their iPhone being unlocked by someone else.
TrueDepth Camera Specs
The TrueDepth camera system, in addition to powering Face ID with the additional biometric components, is also a standard front-facing camera that can be used for selfies.
In the iPhone 11, the front-facing camera was upgraded to 12 megapixels from 7 megapixels in the iPhone XR, and it supports Smart HDR. The updated camera is capable of recording 60 fps video in 4K with support for extended dynamic range video at 30 fps.

When using the front-facing camera, you can turn the iPhone from portrait mode into landscape mode to automatically capture more in the frame, which is useful for situations like group selfies.
When you take a selfie with the iPhone 11 in standard portrait orientation, it uses a zoomed-in 7-megapixel version. Turning your iPhone to landscape mode allows more into the frame and results in a 12-megapixel photo, as does tapping the little arrow icon to zoom out when in portrait orientation.
Slofies
The front-facing TrueDepth camera is able to capture 120 fps slo-mo videos, enabling a feature that Apple is calling "Slofies," although the name hasn't really stuck. These are slow-motion front-facing camera videos similar to the slo-mo videos available from the rear-facing camera in prior iPhones.
Animoji and Memoji
The TrueDepth Camera System supports two features called "Animoji" and "Memoji," which are animated, 3D emoji characters that you control with your face. Animoji are emoji-style animals, while Memoji are customizable, personalized avatars that you can create.

To enable Animoji and Memoji, the TrueDepth camera analyzes more than 50 muscle movements in different areas of the face, detecting movement of the eyebrows, cheeks, chin, eyes, jaw, lips, eyes, and mouth.
All of your facial movements are translated to the Animoji/Memoji characters, letting them reflect your expression and emotion. Animoji and Memoji can be shared with friends and used in the Messages and FaceTime apps.
There are more than a dozen different Animoji to choose from, modeled after existing emoji characters: monkey, robot, cat, dog, alien, fox, poop, pig, panda, rabbit, chicken, unicorn, lion, dragon, skull, bear, tiger, koala, t-rex, and ghost. There are an unlimited number of Memoji that can be created to look like you and other people.
iOS 13 introduced Animoji and Memoji stickers that can be used in the Messages app and other areas of the operating system.
Rear Cameras
The major new feature in the iPhone 11 was an upgraded dual-lens camera system. It includes an ƒ/1.8 6-element 12-megapixel wide-angle lens (26mm focal length) and an ƒ/2.4 5-element 12-megapixel ultra wide-angle lens (13mm focal length), up from a single 12-megapixel camera lens in the iPhone XR.

The ultra wide-angle lens has a 120 degree field of view, which is ideal when you want to get a landscape or architecture shot, or fit more in the frame close up. Unlike the Apple's Pro iPhone models, it does not have a telephoto lens, so while 2x optical zoom out is supported, there's no optical zoom in feature.
The standard wide-angle camera supports Optical Image Stabilization, but the ultra wide-angle lens does not.
With the ultra wide-angle lens, Apple introduced an updated camera app interface that displays the entire field of view captured by the ultra wide lens even when you're taking a picture with the standard wide-angle lens. Toggling between modes can be done with a tap.

The iPhone 11 is equipped with Smart HDR, which Apple says better recognizes people, treating them differently from the rest of the shot. Faces feature highlights, shadows, and natural-looking skin tones while background elements are preserved.

Night mode
The wide-angle camera in the iPhone 11 has a larger sensor than before with 100 percent more Focus Pixels that enables new low light capabilities such as a Night mode that's designed to take much brighter pictures in low lighting conditions. It's similar to Google's Night Shift mode, brightening up the photo using software.

Night mode turns on automatically in low lighting conditions, and there's no need to use the flash with it. When you're in an area with poor lighting, the camera takes multiple images while optical image stabilization works to steady the lens.

The A13 chip is then engaged to align images to correct for movement. Sections with too much blur are eliminated, while sharper images are fused together. The contrast is then adjusted, the colors are fine-tuned, excess noise is eliminated, and details are enhanced to create a final image that looks much brighter and crisper than the lighting conditions would normally allow for.
For more on how the Night mode feature works and details on how to take the best Night mode photos, make sure to check out our Night mode guide.
Portrait Mode
Though the iPhone 11 has no telephoto lens, it is still able to take Portrait mode shots using the other camera lenses, much like the iPhone XR. The two cameras work together to create Portrait Mode photos where the subject of the photo is in focus and the background is blurred, similar to the effect that you get with a DSLR.

Portrait Mode in the iPhone 11 has been improved because it works with people, pets, food, and other objects. With the iPhone XR, Portrait Mode was limited to shots of people.
Portrait Lighting
The iPhone 11 supports Portrait Lighting, which allows the lighting effects of an image to be shifted using software. More lighting modes are supported in the iPhone 11, including Natural, Studio. Contour, Stage, Stage Mono, and High-Key Mono. Stage and Stage Mono were not available in the XR.

As of iOS 13, Portrait Lighting effects can be adjusted using an intensity slider, making them more useful because more subtle looks can be achieved.
Other Camera Features
Other available camera features include a 36 percent brighter True Tone flash, 63-megapixel panoramas, wide color capture, Live Photos support, advanced red-eye correction, and burst mode.
Apple also introduced a Deep Fusion feature, which is an image processing system that uses the A13 Bionic and later and the Neural Engine. Deep Fusion uses advanced machine learning techniques to do pixel-by-pixel processing of photos, optimizing for texture, details, and noise in each part of the image.
Deep Fusion is aimed at improving indoor photos and photos taken in medium lighting. It's a feature that activates automatically based on the lens being used and the light level in the room rather than being something that can be manually enabled.
Camera Tutorials
For more on what was new with the iPhone 11 cameras, make sure to check out our dedicated camera features guide.
Video Capabilities
The wide-angle and ultra wide-angle lenses both work in video mode as well, and you can toggle between them with a tap when filming. The iPhone 11 shoots 4K video at 60 frames per second with both lenses, and the ultra-wide camera can capture four times more scene for better action shots.

The iPhone 11 supports Extended Dynamic Range when capturing video up to 60 frames per second, and optical image stabilization is available for video shot using the standard wide-angle camera.

An Audio Zoom feature is designed to match audio to the video framing for better sound when filming a video on the iPhone.
QuickTake
A feature called QuickTake lets you take video by holding down the shutter when in photo mode, so you can capture a moment without the need to swap from standard camera mode over to video mode.
When shooting outdoors, the A13 Bionic is able to use machine learning to automatically track a moving subject when QuickTake mode is engaged.
Battery Life
The iPhone 11 offers one hour of additional battery life compared to the iPhone XR. The iPhone 11 features a 3,110 mAh battery, which is higher capacity than the 2,942 mAh battery in the iPhone XR.
Apple says that it lasts for up to 17 hours during video playback, up to 10 hours for streaming video playback, and up to 65 hours for audio playback.
According to an Apple support document, the iPhone 11 models are equipped with a hybrid software and hardware system for performance management, which is more advanced than the battery and power management systems on older iPhones.
Apple says the feature works to provide the "best possible performance as battery aging occurs over time." The power needs of the new iPhones are dynamically monitored, with performance managed in real time.
Fast Charging
iPhone 11 is fast-charge capable, which means it can be charged to 50 percent battery life in just 30 minutes. Fast charging requires a USB-C power adapter that offers at least 18 watts, which includes 29/30W adapters from Apple (priced at $49).

Apple no longer includes a power adapter in the box, and the iPhone 11 only comes with a USB-C to Lightning cable, so you'll need to provide your own adapter to take advantage of fast charging.
Wireless Charging
The iPhone 11 has a glass body with built-in wireless charging coils to support wireless charging functionality.
Apple uses the Qi wireless charging standard that's also available in many Android phones, which means the new iPhones can charge wirelessly with any Qi-certified inductive charger.
The iPhone 11 works with 7.5W and 5W wireless charging accessories, but 7.5W charging is faster. Multiple companies have now developed wireless charging options designed specifically for Apple's iPhones.
Connectivity
Gigabit LTE
The iPhone 11 is equipped with an Intel modem chip that features Gigabit-Class LTE with 2x2 MIMO and LAA. That's an improvement over the LTE Advanced in the iPhone XR, but it's not as good as the LTE or even 5G capabilities found in newer iPhone models. The iPhone 11 offers support for up to 30 LTE bands, which is useful when traveling.
5G support, a feature that was been added the 2020 iPhone lineup, is not included. The iPhone 11 is not able to connect to 5G networks and is limited to 4G LTE networks. 4G technology will continue to be in use for years to come alongside 5G, however, so these the iPhone 11 will work even now that 5G iPhones are available.
Dual-SIM Support
Dual-SIM support, which allows two phone numbers to be used at one time, is included in the iPhone 11. Dual-SIM functionality is enabled through the inclusion of one physical nano-SIM slot and an eSIM.
The eSIM feature is available in many countries around the world, and Apple has a full list of carriers that support eSIM on its website.
Ultra Wideband
The iPhone 11 has an Apple-designed U1 chip that enables Ultra Wideband technology for improved spatial awareness. The chip lets the iPhone 11 precisely locate other U1-equipped Apple devices, which is ultimately going to make it easier to find a device that's lost.
Apple likens Ultra Wideband to "GPS at the scale of the living room," which is accurate as the technology is designed specifically for improved indoor positioning.
One example of how Apple is using the U1 chip is AirDrop enhancements added in iOS 13.1. Apple says you can just point your iPhone at someone else's iPhone and their device shows up first on your list of AirDrop targets.
Bluetooth and WiFi
The iPhone 11 supports Bluetooth 5.0, which offers longer range, faster speeds, larger broadcast message capacity, and better interoperability with other wireless technologies.
Compared to Bluetooth 4.2, Bluetooth 5 offers four times the range, two times the speed, and eight times the broadcast message capacity.
WiFi 6 with 2x2 MIMO, aka 802.11ax WiFi, is supported. WiFi 6 is the newest WiFi protocol and it lets you download up to 38 percent faster than WiFi 5 (aka 802.11ac). WiFi 6 is a new WiFi protocol and it's not widely used, but support is likely to become increasingly important over the course of the next few years.
GPS and NFC
Support for GPS, GLONASS, Galileo, and QZSS location services is included in the iPhone 11.
NFC with reader mode is included, and there's a background tag feature that allows the iPhone models to scan NFC tags without the need to open an app first.
iPhone Overview Guide
If you want to see how all of the iPhones in Apple's current lineup compare, make sure to check out our dedicated iPhone guide, which has details on each iPhone along with buying suggestions.