Apple's iPhone 11, ‌iPhone‌ 11 Pro, and iPhone 11 Pro Max all feature an updated 12-megapixel front-facing camera, along with a couple of notable additional shooting options that selfie fans should love.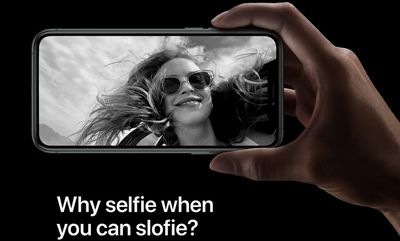 The first addition is that you can now turn your ‌iPhone‌ to landscape mode to capture a wider shot, which is great for group selfies. The second is a new option that lets you take slow motion videos at 120 frames per second.
To market the latter feature exclusive to its 2019 iPhones, Apple invented a new word for it, combining slo-mo (the name long used for the 120fps function on the rear-facing camera) and selfie to form the word "Slofie."
Don't worry, though – "Slofie" isn't used to describe the feature in the ‌iPhone‌ 11's redesigned Camera app, where it's still referred to using the more sober term "Slo-mo." Follow the steps below to create your first Slofie.

Launch the Camera app on your ‌iPhone‌.
Tap the perspective flip button below the viewfinder to activate the front-facing camera.


Swipe rightwards along the shooting mode options directly below the viewfinder until Slo-mo is highlighted in yellow.
Take your slo-mo recording by tapping the red shutter button, then tap again to end it.
To view your Slofie, simply select it in the Photos app and it will play automatically. If you want, you can share it straight away using the Share button (the square with an arrow pointing out) and selecting one of several options from the Share Sheet.