2019 iPhones
Rumors about Apple's 2019 iPhone lineup.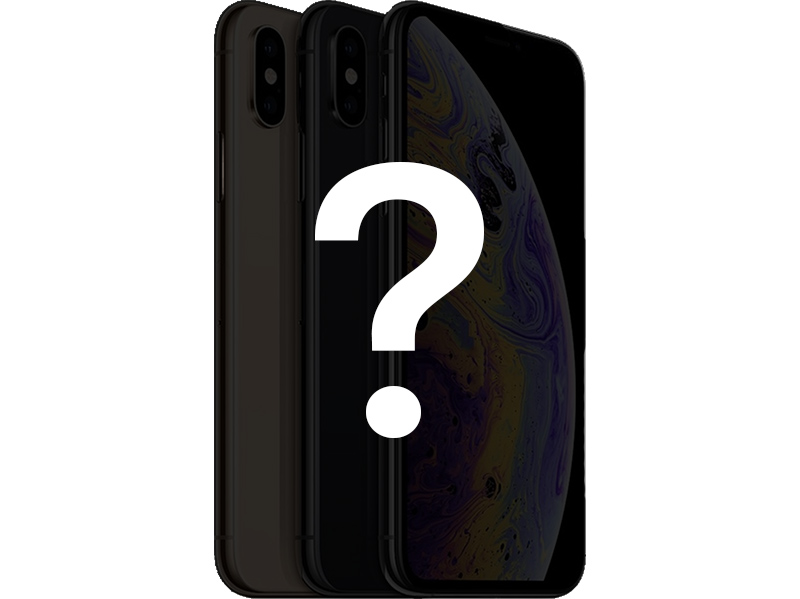 At a Glance
Apple is expected to debut refreshed iPhones in September 2019, and rumors about the new devices are already circulating.
Early Rumored Features
Three sizes
OLED and LCD displays
Triple-lens rear camera
Upgraded TrueDepth camera
Apple Pencil support?
2019 iPhone Rumors
In 2019, Apple is expected to continue offering iPhones in multiple sizes and at multiple price points to provide customers with choice.
2018 brought the iPhone XS (5.8 inches), the iPhone XS Max (6.5 inches), and the iPhone XR (6.1 inches). The two XS devices have higher price tags starting at $999, while the XR is priced starting at $749.
We're expecting a similar lineup in 2019, perhaps with a continuation of both the iPhone XS and XR devices, with rumors suggesting we'll see 5.8 and 6.5-inch OLED iPhones along with a 6.1-inch LCD iPhone. We don't yet know what Apple will call the new iPhones, but iPhone XI or iPhone 11 are possibilities for the iPhone XS successors. Given that naming is up in the air, we're going to be referring to the upcoming iPhones as the "2019 iPhones" for now.
Rumors about the 2019 iPhones started before the iPhone XS and XR were even announced, and we've heard quite a few details on what we can expect.
Apple is expected to continue using OLED displays for the 2019 devices, and while some rumors suggest Apple may go with an all OLED lineup, doing away with the LED displays of the iPhone XR, other rumors believe Apple will stick with LEDs because of the high price of OLED displays.
All 2019 iPhones are likely to adopt upgraded A13 chips from TSMC, Apple's chip supplier. Chip upgrades typically bring improved performance and efficiency, and the A13 will be no different.

The iPhone XS and XS Max
Multiple rumors have suggested Apple could be planning to use a triple-lens rear-facing camera setup in the 2019 iPhones, which may be able to capture detailed depth and distance information to enable TrueDepth-style augmented reality functionality.
It's not entirely clear if this is Apple's plan, however, as at least one rumor suggests this technology is not the direction Apple plans to go. If Apple does include a triple-lens camera system in the 2019 iPhones, support for 3x optical zoom is a possibility, and improved image quality is a sure thing.
We may also see a revamped front-facing TrueDepth camera system, with rumors suggesting either a smaller notch or no notch at all. It's not quite clear how Apple would pull that off, but there are some technologies that would allow for it.
Apple eliminated 3D Touch in the iPhone XR, replacing it with a new Haptic Touch feature, and rumors have suggested the same thing could happen in the 2019 iPhone lineup, with 3D Touch set to be removed.
There have been some rumors of Apple Pencil support in the 2019 iPhones, which would allow the devices to work with Apple's stylus, but we've heard nothing concrete just yet.
Keep an eye on this roundup, because we'll be updating it regularly with all of the rumors about the 2019 iPhones ahead of their launch. We're expecting to see the 2019 devices debut in September 2019, in line with Apple's traditional yearly iPhone launch schedule.
Possible Names
Apple deviated from its standard naming scheme with the iPhone X (pronounced iPhone 10) in 2017, and in 2018, we got the iPhone XS and the iPhone XR. Apple went from iPhone 8 to iPhone XR (10R) and we never had an iPhone 9.
With the jump to the "X" name, it's difficult to predict what Apple will call the 2019 iPhones. iPhone XI or iPhone 11 are both possibilities, but what comes after "XR" is a mystery we have yet to solve. Apple's iPhone names for the last 11 years are below:
2007 - iPhone

2008 - iPhone 3G

2009 - iPhone 3GS

2010 - iPhone 4 (new design)

2011 - iPhone 4s

2012 - iPhone 5 (new design)

2013 - iPhone 5s

2014 - iPhone 6 and iPhone 6 Plus (new design)

2015 - iPhone 6s and iPhone 6s Plus

2016 - iPhone 7 and iPhone 7 Plus

2017 - iPhone 8, iPhone 8 Plus, and iPhone X (new design)

2018 - iPhone XS, iPhone XS Max, and iPhone XR

2019 - iPhone XI and XI Max?
Apple could opt to go with an entirely different name like it did with the iPhone X, and because Apple uses codenames for development, the company's naming schemes often remain unknown until right before new devices launch.
With no clear picture of what Apple plans to name the devices that will launch in 2019, we will refer to them as the "2019 iPhones" until we get a clearer picture of the company's naming intentions.
Displays
For the last few years, Apple has been working to bolster its OLED display supply chain for diversification purposes and to cut down its reliance on Samsung, the company that has supplied displays for the iPhone X, iPhone XS, and iPhone XS Max.
Apple has mulled a partnership with Japan Display, pushed LG Display to build out its OLED display production facilities, and has purchased equipment to build an OLED panel research and development site in Taiwan.

The display of the OLED iPhone XS
Apple is said to be aiming for an all OLED lineup at some point in the future, perhaps in 2019, but it's not clear if that will be possible given the high price of OLED displays.
Rumors have disagreed on Apple's 2019 display plans, with some rumors pointing towards an all OLED display and other rumors suggesting Apple will continue to use some LCDs.
It's likely the 2019 iPhone lineup will look like the 2018 lineup, with premium OLED devices offered alongside more affordable LCD options.
3D Touch
Barclays analyst Blayne Curtis, who has a somewhat mixed track record, has suggested that all 2019 iPhones will do away with 3D Touch. Apple did eliminate 3D Touch in the lower-priced 6.1-inch iPhone XR, and the company could be planning to remove the feature entirely in the future. The iPhone XS and iPhone XS Max continue to offer support for 3D Touch at this time.
A13 Processor
TSMC will be the sole supplier of the next-generation "A13" ships that will be used in the 2019 iPhone lineup, and iPhones coming in the future. The A13 is expected to be built on TSMC's 7nm+ package with extreme ultraviolet lithography.
The A13, like all chip upgrades, should bring performance and efficiency improvements.
Rear Cameras
Rumors suggest that Apple is working on 3D depth sensing technology for the rear-facing camera, which could come in 2019.
Taiwan's Economic Daily News, for example, has suggested the 2019 iPhones will use a triple-lens rear-facing camera system that offers "more advanced" sensing than the front-facing TrueDepth camera system through a time-of-flight (ToF) depth sensing system.
ToF systems use a laser to measure the light between the camera and the subject to calculate metrics like distance and depth, while the TrueDepth camera system uses a dot projection method.

A mockup of a triple-lens camera system
Apple analyst Ming-Chi Kuo, who often accurately predicts Apple's plans, is skeptical that the 2019 iPhones will include more advanced depth-sensing features, however.
Kuo believes that the distance and depth information provided by a time-of-flight system is currently insufficient for creating the "revolutionary AR experience" Apple is aiming for. He also does not believe it would provide better photos, which is another reason why Apple might not use the technology.
According to Kuo, the AR experience Apple wants will require 5G connectivity, augmented reality glasses, and a "more powerful Apple Maps database," so more advanced depth sensing technology may not be introduced at this time.
Regardless, Apple could introduce a triple-lens camera system for other purposes, with a triple-lens option able to offer up better low-light performance and optical 3x zoom for the first time.
Front-Facing TrueDepth Camera System
Rumors suggest Apple is planning to make changes to the front-facing TrueDepth Camera System that enables Face ID in the 2019 iPhones.
Apple analyst Ming-Chi Kuo believes 2019 iPhones will feature a new flood illuminator that will improve Face ID by lowering the impact of the invisible light from the environment.
Apple may be able to introduce a smaller notch by combining the front-facing camera and the Face ID sensors into a single face recognition module.

The current TrueDepth camera system in the iPhone XR
Another rumor suggests Apple could potentially introduce an iPhone design that will eliminate the notch entirely. It's not yet clear how Apple would accomplish this feat, but the report, from Korean news site ET News, suggests Apple could drill holes in the display itself for the camera equipment or use a patented multi-layer Black matrix display.
Apple is said to be planning to introduce an upgraded TrueDepth Camera System with new AR related features in the 2019 iPhones that will consume more power, therefore requiring larger batteries.
Apple Pencil Support
Korean site The Investor, which does not have an established track record for accuracy, has suggested Apple is considering offering an Apple Pencil-style stylus alongside the 2019 iPhone models.

It's not clear if this is accurate, but Apple analyst Ming-Chi Kuo, who is reliable, has said that Apple Pencil support is a possibility for a future iPhone.
Future iPhones
We've heard several other rumors about features that could come to iPhones in the years beyond 2019.
Apple and Intel are rumored to be working on 5G hardware for the widespread rollout of 5G technology, which is expected in 2020. Apple is said to be planning to roll out its first 5G iPhone in 2020 using modem chips sourced from Intel.
5G network technology is expected to become available starting in 2019, but Apple does not plan to release a 5G iPhone until at least 2020, according to rumors. Apple will delay support for the feature as it has done with past network technology upgrades due to the potential for poor coverage and other issues.
Apple may be delaying 5G support because it is no longer using Qualcomm modem chips and Intel's technology, which Apple is now using, won't be ready until 2019.
Apple designers are said to be aiming to remove most of the external ports and buttons on the iPhone for a clean, streamlined device. Apple is expected to work towards this goal with each iPhone iteration, and the first port to go could be the Lightning port once wireless charging technology improves.

LG's foldable display technology
As for the more outlandish, Apple is said to be developing an iPhone with a foldable display in partnership with LG Display, with panel production for an iPhone with a folding display set to kick off in 2020. Apple is also said to be working on touchless gesture controls and curved screens, technologies that could launch within three years.
Launch Date
If Apple sticks with its standard yearly iPhone upgrade cycle, we will see the new 2019 iPhones in September 2019.