Whenever you're listening to Apple Music in the Music app, you can quickly stream audio from your iOS device to your Apple TV, HomePod, or any AirPlay-compatible speaker.
Bring up the screen showing the currently playing song and then tap the AirPlay icon centrally located at the bottom of the interface.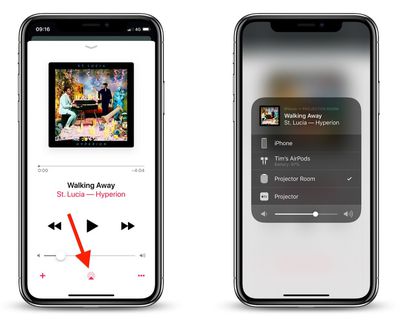 This will being up an audio output panel, where you'll see a list of devices and speakers available to output to. Tap one in the list and the audio should start streaming to the speaker or device almost immediately.
If you're listening to ‌Apple Music‌ on an iOS device but you're in another app or on the Home screen, you can quickly access the same ‌AirPlay‌ speaker menu via the Control Center.
To open Control Center on an iPad with a Home button, double-tap the Home button; on iPhone 8 or earlier, swipe up from the bottom of the screen; and on a 2018 iPad Pro or ‌iPhone‌ X/XR/XS/XS Max, swipe down from the upper right of the screen.


With the Control Center open, simply tap the two curved lines in the upper right corner of the audio playback panel and you'll see the audio outputs available to you.
If your ‌iPhone‌ or ‌iPad‌ is locked but ‌Apple Music‌ is playing, you can still get to the same audio output screen –- just tap the ‌AirPlay‌ icon in the upper right of the audio panel.

Stream Apple Music on Mac to an AirPlay Speaker
If you're listening to ‌Apple Music‌ on a Mac or PC via iTunes, you can easily stream the audio output to an ‌AirPlay‌ speaker or ‌Apple TV‌.


Click the ‌AirPlay‌ icon to the right of the volume slider and you should see a list of available output devices. Simply click the check box next to the one you want to stream to.