Old vs. New HomePod Buyer's Guide
Following Apple's reintroduction of the full-size HomePod earlier this year, how does the new model compare to the divisive original model that the company introduced in 2017 and discontinued in 2021?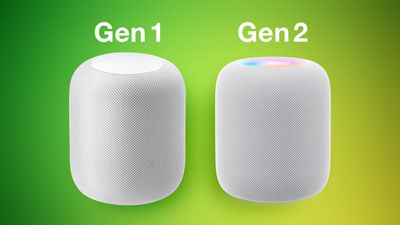 The new ‌HomePod‌ is priced at $299. The original model debuted at a $349 price point, before being dropped to $299 in 2019. Following a period of appreciation last year, prices for the original ‌HomePod‌ on sites like eBay are now falling and it may still be possible to pick up a unit at a price well below $299.
First-time ‌HomePod‌ customers, those considering upgrading from the original, or anyone considering adding another ‌HomePod‌ to their setup to create a stereo pair may be wondering whether it is worth buying an original model or the new one, so it is important to weigh up exactly what was added with the reintroduced ‌HomePod‌.
See the detailed breakdown below for each new feature, change, and improvement that was added with the new ‌HomePod‌ compared to the original model:
| New ‌HomePod‌ | Original ‌HomePod‌ |
| --- | --- |
| Refined design with acoustically transparent mesh fabric | Design with acoustically transparent mesh fabric |
| Larger backlit touch surface that illuminates from edge to edge | Backlit touch surface |
| S7 chip from 2021's Apple Watch Series 7 | A8 chip from 2013's iPhone 6 and ‌iPhone‌ 6 Plus |
| U1 ultra wideband chip | – |
| Five horn-loaded tweeters | Seven horn-loaded tweeters |
| Four far-field beamforming microphones | Six far-field beamforming microphones |
| 6.6 inches tall | 6.8 inches tall |
| Weighs 5.16 pounds | Weighs 5.5 pounds |
| Passive cooling | Active cooling |
| Removable power cable | Fixed power cable |
| Wi-Fi 4 connectivity (802.11n) | Wi-Fi 5 connectivity (802.11ac) |
| Thread support | – |
| Temperature and humidity sensor | – |
| Sound Recognition | – |
| Available in White and Midnight | Available in White and Space Gray |
Final Thoughts
If you already have an original ‌HomePod‌, most users will not gain much by replacing it with a new model. In fact, in some senses, the new ‌HomePod‌ is a step back from the original, with fewer tweeters, microphones, and downgraded support for Wi-Fi 4. The original ‌HomePod‌ still receives software updates with new features and improvements, and the new model is unlikely to sound better owing to its scaled down audio hardware, so you may be better off waiting for your current ‌HomePod‌ to reach the end of its usable life before upgrading to a future HomePod model that has more to offer.
A minority of users who specifically want a better handoff experience with the U1 chip, the temperature and humidity sensor for smart home automations, Thread support, and perhaps even the new Midnight color option and tweaked aesthetic may have justifiable reasons to upgrade – but this certainly won't be the case for most existing ‌HomePod‌ owners.

Original ‌HomePod‌ user: Don't upgrade to new ‌HomePod‌ unless you want specific new features
Original ‌HomePod‌ user looking to create stereo pair: Get discounted original model or buy two new models
Prospective ‌HomePod‌ customer: Buy new ‌HomePod‌, don't buy discounted original model
The new ‌HomePod‌ cannot be stereo-paired with the original model, so if your intention in buying another ‌HomePod‌ is to create one, you will need to track down another original model. If you can afford it, it may be easier to simply replace your original ‌HomePod‌ with a new one and create a whole new stereo pair with two of the reintroduced models.
If you are simply looking to add a ‌HomePod‌ to your smart home and audio setup, it will be much better to get the new model over the original. The new model offers improved performance, a significantly better handoff experience, a more modern design, is unlikely to sound much different from the original model, and should have much better longevity.