Leading up to the launch of the AirPods 2, many held out hope for the launch of a black color option for Apple's popular wireless headphones.
Black AirPods have been on the wishlist of many since the launch of the original AirPods. In fact, early mockups by designer Martin Hajek showed what they might look like back in 2016.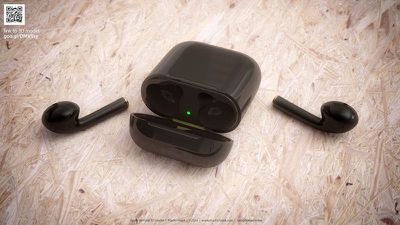 The first actual word of Black AirPods came only in February from MySmartPrice which claimed to have heard from "trusted" sources that the new AirPods would come with better bass response, a matte finish, and come in both white and black colors. That report was later corroborated by an Economic Daily News report which also claimed a new surface coating, wireless charging, and a black color option. However, it may be that that report could have been sourced from the original MySmartPrice report.
The problem is that those rumors were apparently wrong, and Apple didn't release a black option for the 2019 AirPods. That said, we are starting to see rumors of Black AirPods again surfacing in anticipation of the rumored "AirPods Pro" that are expected to be a distinct product from the traditional AirPods.

Still Want Black AirPods?
If you don't want to wait for official Black AirPods, there are third-party options. The most well known is from a company called ColorWare. ColorWare offers custom colored AirPods. For a $40 premium, you can still get the Black AirPods that you want. The catch is you have to buy them through ColorWare. If you already own AirPods, you won't be able to get them colored by the company.

Official Release
If you want to wait for an official AirPods option, you may not have to wait much longer... as long as you are interested in the higher end AirPods Pro.


Meanwhile, Apple's Beats headphone brand have new set of wire-free Powerbeats Pro earbuds that use the same technology as the AirPods. Powerbeats Pro come in Black, Ivory, Navy, and Moss, offering multiple color alternatives to the traditional AirPods.


The ‌Powerbeats Pro‌ launched in May and are priced at $250, and they have some perks over the AirPods. The ‌Powerbeats Pro‌ are water and sweat resistant, have earhooks to keep them in place when you're working out, and feature longer nine hour battery life along with their own clamshell-style charging case.