3D Movies Appear in Apple TV App Ahead of Vision Pro Launch
3D content has begun appearing in the Apple TV app ahead of next year's Vision Pro headset launch (via FlatPanelsHD).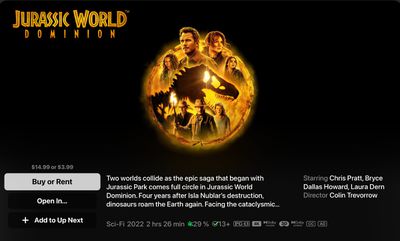 Screenshot of the ‌Apple TV‌ showing the new 3D content icon (via FlatPanelsHD).
tvOS 17.2's redesigned ‌Apple TV‌ app shows a large selection of movies with a small 3D icon that resembles a headset alongside other icons for the likes of Dolby Atmos and 4K. Since the movies are unplayable in 3D via the TV app without a Vision Pro headset, it is currently unclear what resolution and frame rate they play in. 3D titles seen in the ‌Apple TV‌ app include
Jurassic World Dominion
,
Pacific Rim Uprising
,
Shrek
,
Trolls
,
Warcraft
,
Minions: The Rise of Gru
,
Mortal Engines
,
Everest
,
Kung Fu Panda 3
, and more.
Apple showcased a 3D version of Avatar: The Way of Water to demonstrate some of the entertainment capabilities of the Vision Pro headset when it was unveiled in June and touted the ability to play 2D, 3D, and "immersive" movies on the device, including in a virtual cinema. Apple is also expected to offer Apple TV+ content in a new, immersive 3D video format, including Monarch: Legacy of Monsters. The Vision Pro headset launches early next year.