iPhone 15 Pro Teardown Reveals Internals, Battery Capacity, and More
YouTube channel PBKreviews today shared a teardown of the iPhone 15 Pro, providing a look inside the device. Overall, the iPhone 15 Pro has a similar internal design as the iPhone 14 Pro, but with a redesigned mid-frame chassis that allows for the back glass panel to be easily removed from the device during repairs.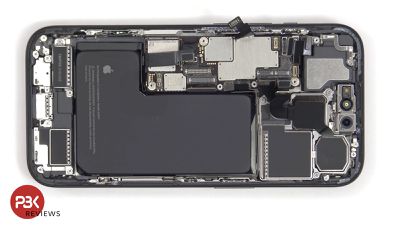 The teardown confirms that the iPhone 15 Pro is equipped with a 3,274 mAh battery, as revealed in a regulatory database last week. While the iPhone 15 Pro has a slightly larger battery than the 3,200 mAh battery in the iPhone 14 Pro, Apple says both devices have the same battery life, with up to 23 hours of offline video playback.
Since this is an iPhone 15 Pro teardown, there is no look at Apple's new tetraprism lens system, which enables 5x optical zoom on the iPhone 15 Pro Max.
The video provides a brief look at the iPhone 15 Pro's logic board with Apple's new A17 Pro chip, but few other details can be garnered. Repair website iFixit will likely share a more in-depth teardown of the device by next week.
Teardown spotted by 9to5Mac