Apple Event Live Blog: iPhone 15, New Apple Watch Models, and More Expected
Apple's "Wonderlust" event kicks off today at 10:00 a.m. Pacific Time, where we're expecting to see the iPhone 15 lineup, updated Apple Watch Series 9 and Apple Watch Ultra 2 models, a USB-C case update for AirPods Pro, and perhaps some other announcements.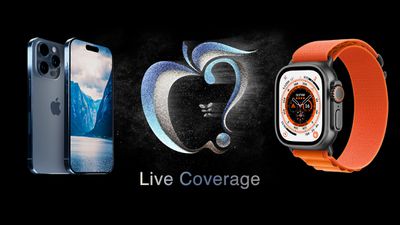 Apple is providing a live video stream on its website, on YouTube, and in the company's TV app across various platforms. We will also be updating this article with live blog coverage and issuing Twitter updates through our @MacRumorsLive account as the keynote unfolds. Highlights from the event and separate news stories regarding today's announcements will go out through our @MacRumors account.
As usual, Apple's online store is currently down in advance of the event.
Sign up for our newsletter to keep up with Apple news and rumors.
Live blog transcript ahead...
8:02 am: Good morning! We're heading over to Apple Park early this morning to get checked in and see what's going on ahead of today's event.
8:03 am:
It's almost Time! See ya soon! #AppleEvent pic.twitter.com/gy47f9ZBjU

— Tim Cook (@tim_cook) September 12, 2023
8:48 am: Badge in hand, it's time to grab some breakfast snacks and chat up some friends ahead of the event!
We've got our all-access pass to the USB-C future. pic.twitter.com/vMSO0Mb5FR

— MacRumors.com (@MacRumors) September 12, 2023
9:31 am: We're 30 minutes out from the start of the Wonderlust event!
9:32 am: Media attendees are still milling around the upper level of the Steve Jobs Theater before being admitted below.
9:34 am:
We're headed down to the theater! pic.twitter.com/IBtilYZauM

— MacRumors.com (@MacRumors) September 12, 2023
9:38 am:
This is the room where it happens. pic.twitter.com/6DCpR7mw8p

— MacRumors.com (@MacRumors) September 12, 2023
9:45 am: The stream is live on Apple.com
9:58 am: We're moments away!
10:00 am: We're starting!

10:01 am: We're starting with a video showing a number of people interacting with Apple tech in their day-to-day lives.

10:03 am: Birthday parties, memories, in different languages and cultures around the world. The reveal is that the Apple Watch helped one woman learn about a cardiac issue, while others were saved by the Emergency SOS feature. A child was notified of a high heart rate, which led to the discovery of a tumor. "We're so glad you're here with us."
10:04 am: "This year they all celebrated a birthday they thought they'd never have."

10:04 am: We're flying through ‌Apple Park‌, joining Tim Cook on the grass.
10:05 am: Tim is excited that we could join him today for big announcements about the iPhone and the Apple Watch.
10:05 am: "We're going to talk more about what's coming next to these products, but first I'd like to provide a couple of updates, starting with the Mac."

10:06 am: Quoting MKBHD and Tom's Guide praising the 15-inch MacBook Air. "It's the best and most capable lineup in the history of the personal computer."

10:07 am: Now talking about the reaction to Apple Vision Pro and the involvement of developers in working on the platform. He says Apple is on track to ship "early next year."
10:07 am: "They're with us all the time, and if you left either one at home, I bet you'd go back and get it."
10:08 am: Let's get started with Apple Watch.

10:08 am: We just flew to Apple COO Jeff Williams, standing on a San Francisco pier.

10:08 am: The next generation of Apple Watch is here, starting with a Rose Gold model.

10:09 am: Apparently the new watch can detect fingers touching together, a la the Vision Pro, as a new control mechanism.


10:10 am: ‌Apple Watch Series 9‌ has a new S9 SiP chip. 60% more transistors and 30% faster than Series 8.
10:10 am: S9 has a four-core neural engine for 2x faster neural tasks. 18-hour all-day battery life.
10:11 am: Siri requests are processed on the Watch, making them faster and more secure. Common requests like starting a workout don't need to go to the cloud.
10:11 am: Dictation on Series 9 is up to 25% more accurate than Series 8, thanks to secure on-device processing.
10:11 am: ‌Siri‌ can also access health data. "How did I sleep last night?"

10:11 am: ‌Siri‌ health queries will be available later this year in English and Mandarin, with other languages coming.

10:12 am: With WatchOS 10, you can use NameDrop to share contact info with another person's Apple Watch.

10:12 am: The ability to ping your ‌iPhone‌ thanks to Ultra Wideband support, Watch Series 9 lets you do precision finding for the ‌iPhone‌, like the ‌iPhone‌ can with an AirTag.


10:13 am: Series 9 has edge-to-edge always-on Retina display, up to 2000 nits, 2x the brightness of Series 8. Can go down to 1 nit of brightness, for use in theaters or at night.
10:13 am: Apple Watch is currently controlled by gestures like wrist raise or covering the display with your hand. But now there's something new.

10:14 am: There's a new gesture for your watch hand, for common situations where your other hand might be occupied. "We think you'll use this all the time." Introducing Double Tap... tap your thumb and index finger twice. You can use it to answer or end a call.
10:14 am: Can use it to stop a timer, snooze an alarm, or play or pause music.
10:15 am: It can be used to bring up the Smart Stack too, looking at tiny changes to movements and blood flow using the accelerometer and blood oxygen sensor.

10:16 am: "Magic. At your fingertips."
10:16 am: Double Tap will be available next month.

10:16 am: Series 9 comes in a new pink Aluminum case.

10:17 am: Now we're talking about how environmentally friendly the Watch is, with a new video.


10:18 am: Showing a board meeting with.. Mother Nature.
Tim: How was the weather today?
Mother Nature: It was however I wanted it to be.
10:18 am: "We have some updates we're excited to share."
10:19 am: Currently using 100% of recycled aluminum in MacBooks and other devices. Phasing out leather. Operating on 100% clean electricity "thanks to you and your clean air and sun."
10:21 am: 300 suppliers have committed to using clean, renewable electricity. Shipping more products by ocean versus air, which reduces transportation emissions by 95 percent. Investing in projects around the world to protect the earth's soil and planting trees. "We've planted forests in Paraguay and Brazil, and restored mangroves in Colombia, and grasslands in Kenya. Our aim is to permanently remove carbon from the atmosphere." Apple's reduced water usage by 63 billion gallons."
10:21 am: "We've innovated and retooled almost all of our process to reduce our impact on the planet."
10:22 am: Mother Nature is pleased.
10:22 am: "It's making a difference."

10:22 am: Now jumping to former EPA head Lisa Jackson, VP of Environment, Policy and Social Initiatives.

10:23 am: Apple 2030 is the plan to be entirely carbon neutral across the business, to get the carbon footprint of all Apple products down to 0 by 2030.
10:23 am: Materials, Electricity and Transportation are the biggest contributors of carbon.
10:23 am: 100% recycled cobalt in the Apple Watch S9 battery. The sport loop has been redesigned to use 82% recycled yarn.

10:24 am: All Apple manufacturing is powered by 100% clean electricity now.
10:24 am: For Series 9, Apple will match 100% of your expected electricity use by investing in renewable energy products around the world.
10:25 am: Series 9 packaging is 100% fiber-based and more compact, with a new, smaller shape. Ship up to 25% more watches per trip, with more low-carbon shipping modes like ocean freight. 78% decrease in carbon footprint, with carbon credits offsetting the remaining carbon and bringing net carbon footprint of ‌Apple Watch Series 9‌ to zero.
10:25 am: There's a new Carbon Neutral logo for the box.
10:26 am: Leather is a popular material for accessories, but it has a high carbon footprint especially at Apple's scales. Apple will no longer use leather for new Apple products, starting today.

10:27 am: There's a new textile called "FineWoven", made of 68% post-consumer content. New magnetic link has a subtle lustre and suede-like feel. Replaces buckle band too.

10:27 am: Working with Hermes, with two new woven bands, a knitted band, and a sporty molded rubber band.


10:28 am: Working with Nike to develop new bands to use old materials, with colorful new bands with a randomized pattern making each band unique. Repurposed yarn for new woven bands.

10:28 am: Now moving to the Apple Watch Ultra.

10:29 am: Ultra is a precision tool designed to go higher, deeper, and farther. Today, ‌Apple Watch Ultra 2‌.



10:30 am: The new S9 SiP is coming to Ultra 2, bringing the Double Tap feature, on-display ‌Siri‌, and Ultra Wideband. Ultra 2 supports 3000 nits on the display. New Modular Ultra display, using the edges of the display.

10:31 am: Most information at a glance of any watch face we've made. Night mode now turns on automatically in the dark thanks to the ambient light sensor.
10:31 am: Cycling updates, allowing you to connect Bluetooth accessories to measure cadence, speed, and power.

10:31 am: It's been tested from -500 meters to +9000 meters, from alpine peaks, to deep water, to the open road.
10:33 am: It appears that the Ultra 2 is a relatively minor update, getting the new SiP and an improved screen. 36 hours battery use, and 72 hours in low power mode. Increased recycled content in the case, going from all virgin titanium to 95% recycled. Any Ultra 2 paired with an Alpine Loop or Trail Loop is fully carbon neutral.


10:33 am: Ultra 2 joins Series 9 in the lineup, plus the 2nd Generation Apple Watch SE. SE is also carbon neutral when paired with a sport loop.

10:34 am: SE starts at $249, Series 9 starts at $399, Ultra 2 is $799. Order today, available September 22.

10:34 am: Tim is back. He loves the new Apple Watches.
10:34 am: "I'm proud of the Apple Watch team for delivering our first carbon neutral product."
10:34 am: Now moving to the ‌iPhone‌.
10:35 am: The new ‌iPhone‌ appears to come in a glorious light pink.
10:35 am: Also, yellow, blue, green, black...


10:36 am: The ‌iPhone 15‌ is here, with an all-new "gorgeous" design. On the front, we have the Dynamic Island.

10:37 am: Super Retina XDR display with OLED.

10:37 am: Peak HDR brightness is 1600 nits, peak outdoor brightness is 2000 nits, 2x as bright as iPhone 14. 6.1" and 6.7" for ‌iPhone 15‌ and ‌iPhone 15‌ Plus.

10:38 am: Aerospace-grade aluminum enclosure, and color built into the foundation of the back glass itself.

10:39 am: Pink, Yellow, Green, Blue, Black. Optimized custom dual-ion exchange process for this new material, and polished it with nano-crystalline particles. Etched with a textured matte finish. Has Ceramic Shield on the front.
10:39 am: 75% recycled aluminum in the enclosure, 100% recycled cobalt in the battery, and 100% recycled copper foil in the main logic board and MagSafe charger.
10:40 am: A new camera system, with the 48MP camera coming to the ‌iPhone 15‌. Quad-pixel sensor and 100% focus pixels.

10:42 am: Uses 2x zoom for photos, using the 48MP to take "zoomed" 2x images "with optical quality."
10:42 am: There's a new next-generation portrait mode.
10:43 am: There's no portrait mode needed anymore, automatically detecting when there's a person in the frame, allowing you to switch to portrait mode after the fact. Works with pets, too.
10:43 am: There's new focus and depth control, allowing you to switch focus from one person to another after the photo has been taken.
10:44 am: Night mode has been improved, too, and smart HDR allows you to catch sky and subject simultaneously.

10:45 am: "Computational photography plus the new cameras and sensors, ‌iPhone 15‌ makes it easy to take great-looking photos and videos every day."

10:45 am: The A16 Bionic, first launched on ‌iPhone 14‌ Pro, is powering the ‌iPhone 15‌.
10:46 am: ‌iPhone 15‌ has all-day battery life. ‌iPhone 15‌ Plus has a bigger, longer-lasting battery, too.
10:46 am: Battery life was not shared, however, beyond "all-day."


10:47 am: Ultra Wideband is being updated, as ‌iPhone‌ has the new second-generation chip like the new Watch. Can connect to other devices with the chip from up to 3x as far. New precision finding update, allows you to find friends. "You can be guided right to them, with directions and distance."
10:48 am: Audio quality for calls has been updated, with a more advanced machine learning model that prioritizes your voice. Select Voice Isolation to come through loud and clear. "It's a feature you can use every day."

10:49 am: Sometimes a call can't go through because you're off the grid. Emergency SOS and Find My via Satellite are coming to more countries. Emergency SOS is designed for emergency situations. But Roadside Assistance via Satellite is coming, allowing you to connect to connect to a roadside assistance provider.

10:50 am: Launching in the US with AAA, with roadside service covered by AAA membership.

10:50 am: Access to these satellite services is included free for two years with ‌iPhone 15‌.
10:50 am: Now to talk about "wired capabilities."

10:51 am: USB-C has become a universally accepted standard. USB C is coming to ‌iPhone 15‌. Charging, Data, Audio, and Video. The same cable can charge Mac, iPad, ‌iPhone‌, and even ‌AirPods Pro‌ 2nd Generation, now updated with a new USB C connector.

10:51 am: Can charge AirPods or Apple Watch from the ‌iPhone‌. New USB C wired earpods.


10:52 am: Supports ‌MagSafe‌ and ‌MagSafe‌ accessories, with new options eliminating leather and new FineWoven accessories with lower carbon emissions.

10:52 am: With no fanfare, Lightning is seemingly kaput.


10:54 am: ‌iPhone 15‌ and 15 Plus also supports Qi 2 wireless charging. ‌iPhone 15‌ starts at $799 for 128GB and ‌iPhone 15‌ Plus starts at $899 for 128GB. US carriers are offering up to $800 off with trade-in.
10:54 am: We're not done yet, says Tim! Our Pro models represent the very best of Apple innovation. The next-generation Pro pushes further in ways only Apple can.

10:55 am: The new iPhone 15 Pro... made of Titanium!

10:55 am: "The most Pro ‌iPhone‌ we've ever created!"

10:56 am: ‌iPhone 15 Pro‌ is packed with industry-first innovations and features our users will love.

10:56 am: The new Titanium design is the most premium material we've used in an ‌iPhone‌ enclosure. It's stronger and durable, yet lighter. They're the lightest Pro models ever. New contoured edges, with the thinnest borders ever on the ‌iPhone‌. Dimensions reduced without affecting display size. ‌iPhone 15 Pro‌ is a delight to hold in your hand.

10:57 am: Toughest glass-based materials in the industry. Ceramic Shield front which is only available on ‌iPhone‌. 6.1" and 6.1" on 15 Pro and 15 Pro Max respectively.

10:58 am: Every material we choose for ‌iPhone‌ is meticulously considered. Re-evaluated every structural component. Breakthrough in manufacturing and materials design, Grade 5 Titanium. Typically used for applications where strength and formability is critical. Same alloy as the Mars Rover.
10:58 am: Titanium is incredibly strong and durable, while enabling a lighter design in comparison to stainless steel. Encases aluminum structure bonded using solid state diffusion. Uses new thermomechanical process that joins these two products with high strength. Synergistic properties combining aluminum and titanium, with weight reduction and heat dissipation.

10:59 am: Precision machining, sanding, brushing, and blasting. Used PVD coating as added protection while introducing color. Nanometer precision and take up to 14 hours to complete. Black Titanium, White Titanium, Blue Titanium, Natural Titanium.

10:59 am: ‌iPhone‌ is more repairable, with back glass easily replaced. Entire aluminum substructure is made of 100% recycled aluminum.
11:00 am: Another design change is coming... the ring/silent switch is gone, replaced with an "Action Button"


11:00 am: To toggle between ring and silent, you press and hold the button, with a haptic feedback per state. Can switch between actions. With a press, you can start voice memos, or launch camera, activate a favorite accessibility feature, or use shortcuts.
11:01 am: Action button delivers more convenience and versatility to the ‌iPhone‌ experience. ‌Dynamic Island‌ gives feedback.
11:01 am: Includes ProMotion, Extreme Dynamic Range, and Always-On Display. Standby mode, too.

11:02 am: Huge advancement in performance, with next-level performance thanks to the new A17 Pro chip.
11:02 am: Pro is better than Bionic, apparently.

11:02 am: There's a new generation of Apple Silicon, with changes throughout the entire chip, with a breakthrough new GPU.
11:02 am: The industry's first 3 nanometer chip.
11:03 am: Elements of these 19 billion transistors are just 12 silicon atoms wide.
11:03 am: 6-core CPU, dual performance and quad efficiency.

11:04 am: 16-core neural engine, up to 2x faster than previously. Process up to 35 trillion operations per second. Uses machine learning on device, powering more accurate autocorrect or pulling a subject from an image.
11:04 am: Dedicated ProRes, Pro display engine, and AV1 decoder engines.

11:05 am: New USB controller and USB 3 support, up to 10Gbps speeds, using a USB 3 cable, that's 20x faster than USB 2, with much higher transfer speeds.
11:05 am: Brand new GPU, with Apple-designed shader architecture, the biggest redesign in the history of Apple GPUs. A pro-class GPU. Focused on performance and efficiency, running complex applications, and new rendering features. 6-core design up to 20% faster on peak performance.

11:06 am: Adds hardware-accelerated ray tracing. New Mesh shading.
11:07 am: A17 Pro is more energy efficient, running 4x faster hardware ray tracing vs A16 Bionic software ray tracing.
11:07 am: A17 Pro is going to change mobile gaming.

11:08 am: ‌iPhone‌ and iOS have fantastic game developer community. A17 Pro takes this platform further, laying the platform for a new generation of mobile gaming.
11:08 am: A rep from Ubisoft is talking about The Division Resurgence, with higher quality lighting, more characters, etc.
11:09 am: Console games like Resident Evil 4 can be played on ‌iPhone‌.

11:10 am: A console version of Assassin's Creed: Mirage is being ported to the ‌iPhone‌.
11:10 am: New camera updates, with "the equivalent of 7 camera lenses in their pocket."



11:12 am: More advanced 48MP main camera, with a larger sensor than ‌iPhone 15‌. Reduces lens flare with new coating, better low light performance for portraits and night mode. When using all pixels of the quad pixel sensor, the main camera can capture unbelievable detail. In addition to 48MP ProRaw. Plus Super High Resolution default for 24MP merging the best of low light and detail together.
High resolution photos in 24MM, 28MM, and 35MM focal length.
11:12 am: Can even choose a new default lens to customize the camera experience.
11:12 am: Next-generation portraits with focus and depth control.



11:14 am: Now talking about zoom range, with 3x Telephoto camera at 77mm focal length.
Using extra size of larger ‌iPhone‌ to introduce 5x optical zoom at 120mm. 25% larger sensor from 14 Pro Max. f/2.8 aperture.

11:15 am: We created an innovative tetraprism design, with light reflected four times through the structure, allowing light to travel longer in a smaller design. Enough separation between the lens and photo sensor. OIS and 3D sensor-shift module to move the sensor in three directions, a first for a smartphone. Better stabilization with up to 10,000 microadjustments per second.


11:16 am: Ultrawide camera has new anti-reflective coating, night mode, and smart HDR. Plus, Macro photography.
In total: Macro, 13, 24, 28, 35, 48, 120mm.

11:17 am: Using USB3 cable enables incredibly fast transfer speeds, including large ProRAW photos or ProRes videos to the Mac. Instantly transfer 48MP ProRaw to the Mac when taking photos. Or record ProRes video directly to an external storage drive.
11:17 am: Higher quality recording options for external drives, supports 4K60 for the first time, plus Log encoding.
11:17 am: First smartphone to support the Academy Color Encoding System.
11:17 am: The ‌iPhone 15 Pro‌ Camera system pushes the limits of what you can capture with a smartphone.

11:18 am: Supports spatial computing video, collect spatial video 3D videos by combining two sensors together.

11:19 am: Can record them on the ‌iPhone‌ and watch them on the ‌Apple Vision Pro‌.


11:20 am: The most Pro ‌iPhone‌ ever, the ‌iPhone 15 Pro‌ and 15 Pro Max. 15 Pro starts at $999 for 128GB, while Pro Max starts at $1199 for 256GB. Up to $1,000 off with trade ins.
‌iPhone‌ preorder starts Friday September 15, available September 22.
11:20 am: iCloud+ adding 6TB and 12TB plans.


11:20 am: iPhone SE from $429, iPhone 13 from $599, ‌iPhone 14‌ from $699, ‌iPhone 15‌ from $799, ‌iPhone 15 Pro‌ from $999.
11:21 am: Now, back to Tim, who is thanking the presenters and Apple employees for making this all possible.
11:21 am: He's recapping all the announcements of the day.

11:22 am: Apple Watch and ‌iPhone‌ are essential. They're with us all the time and we use them throughout the day. We're so excited for you to begin using these incredibly new devices.
11:22 am: "Thank you for joining us, and have a great day."
11:23 am: The. End.