Apple to Buy TSMC's Entire Supply of 3nm Chips for 2023
Apple will receive all of TSMC's first-generation 3-nanometer process chips this year for upcoming iPhones, Macs, and iPads, according to industry sources cited by DigiTimes.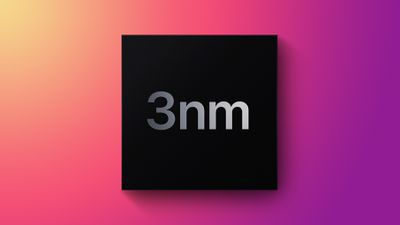 As early as May, Apple was known to have booked nearly 90% of the Taiwanese pure-play foundry for its upcoming next-gen devices. However, Apple is now projected to take 100% of TSMC's capacity in 2023, due to delays in Intel's wafer needs owing to later modifications to the company's CPU platform design plans.
Intel's lack of orders means TSMC's sales of 3nm chips will be significantly lower this year. While TSMC is still expected to experience significant growth in the fourth quarter as it starts mass producing ‌3nm‌ chips for Apple's needs, they too have been downgraded, according to DigiTimes' industry sources.
The report suggests TSMC's ‌3nm‌ process output may be reduced to 50,000-60,000 wafers monthly in the fourth quarter, down from the 80,000-100,000 units previously anticipated, due to a cutback in Apple's orders. The current monthly output of TSMC's ‌3nm‌ process is estimated at approximately 65,000 wafers, the outlet's sources said.
Apple's upcoming ‌iPhone 15 Pro‌ models are expected to feature the A17 Bionic processor, Apple's first ‌iPhone‌ chip based on TSMC's first-generation ‌‌3nm‌‌ process, also known as N3B. The ‌‌3nm‌‌ technology is said to deliver a 35% power efficiency improvement and 15% faster performance compared to 4nm, which was used to make the A16 Bionic chip for the iPhone 14 Pro and Pro Max.
Apple's M3 chip for Macs and iPads is also expected to use the ‌‌3nm‌‌ process. The first M3 devices are expected to include an updated 13-inch MacBook Air and 24-inch iMac, both of which could arrive as early as this October.
New OLED iPad Pro models coming early next year are also likely to be powered by M3 chips, while Apple analyst Ming-Chi Kuo believes that new 14- and 16-inch MacBook Pro models coming in 2024 will feature ‌M3‌ Pro and ‌‌M3‌‌ Max chips.
According to an App Store developer log obtained by Bloomberg reporter Mark Gurman, Apple is currently testing a new chip with a 12-core CPU, 18-core GPU, and 36GB of memory, which could be the base-level M3 Pro for the next-generation 14-inch and 16-inch MacBook Pro models launching next year.
Apple may also be actively testing an M3 version of the Mac mini, according to Gurman. The Mac is said to be carrying the model identifier "Mac 15,12" and includes eight CPU cores (consisting of four efficiency cores and four performance cores), 10 graphics processor cores, and 24GB of RAM.
According to The Information, future Apple silicon chips built on the ‌‌3nm‌‌ process will feature up to four dies, which would support up to 40 compute cores. The M2 chip has a 10-core CPU and the ‌‌‌M2‌‌‌ Pro and Max have 12-core CPUs, so ‌‌3nm‌‌ could significantly boost multi-core performance. At minimum, ‌‌3nm‌‌ should provide the biggest performance and efficiency leap to Apple's chips since 2020.
TSMC is also working on an enhanced ‌‌3nm‌‌ process called N3E. Apple devices will eventually migrate to the N3E generation, which is expected to enter commercial production in the second half of 2023, but actual shipments will not ramp up until 2024, according to DigiTimes.