iOS 17 Photos App Can Tell You What Those Confusing Laundry Symbols Mean
The Photos app in iOS 17 can identify a wide range of symbols, including the laundry symbols that you see on clothing tags. As noted by MacStories' Federico Vittici, if you take a photo of a tag with laundry symbols, it is highlighted through the Visual Look Up feature, and can be tapped for a symbol translation.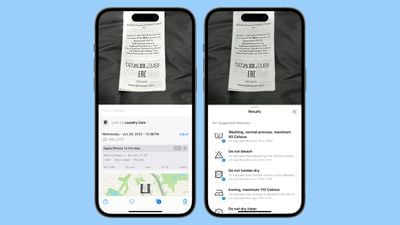 The iPhone will provide an explanation for each symbol that is on the tag, with a tap on the explanation able to provide more information from the website that Apple is sourcing. Apple is getting information for laundry instructions from the Online Browsing Platform that is run by the International Organization for Standardization.
Visual Look Up appears to recognize all of the laundry symbols that we tested with, including washing machine temperatures, bleaching recommendations, dryer restrictions, ironing temperatures, and more. It should recognize almost any laundry tag, but note that the image does need to be fairly zoomed in for the ‌iPhone‌ to detect the symbols.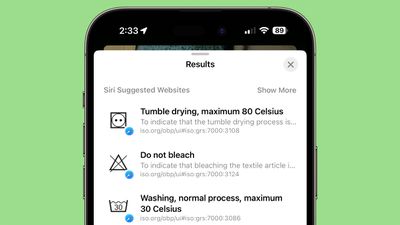 Visual Look Up is also able to detect car symbols on vehicle dashboards, so it looks like Apple has quietly added Visual Look Up support for many of the common symbols that you might come across in your day to day life.
Other features in the ‌iOS 17‌ ‌Photos‌ app include pet recognition, one-tap crop, animated stickers made from Live Photos, recipe searches based on food pictures, and more. A full list of features in ‌iOS 17‌ can be found in our dedicated iOS 17 roundup.