iOS 17 Photos App Recognizes Your Pets
Apple in iOS 17 improved the image recognition capabilities of the iPhone, which means the Photos app is now able to recognize pets in addition to people.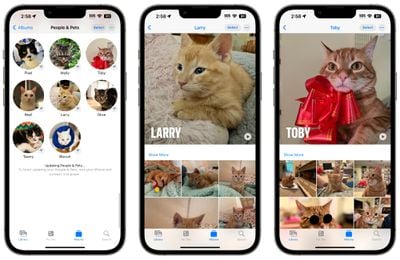 The "People" album is now the "People and Pets" album, because the ‌Photos‌ app can detect animals, and specifically, animals that are important to you because of the number of photos that you have of them.
Animals that you have one or two photos of won't show up in this section, but if you have multiple images of the same animal, you'll see the pet listed in the album. You can add a name for the pet and confirm additional photos.
In this album, you'll see all of the images you have of that animal, which is handy, and this function also allows specific memories of the pet to show up in the For You section.
The pet recognition feature seems to be accurate, and it is able to tell pets apart that have the same coloration. It was able to distinguish between two white cats, two orange cats, and two tabby cats with no issues and no mistakes.
Pets are now denoted by more accurate icons with the Look Up feature, and the app will try to better determine a specific species.
Apple has also improved the ‌iOS 17‌ ‌Photos‌ app with Visual Look Up for food items, which brings up recipes for similar dishes, and an option to look up information about the subject of a photo when you remove it from the background. Visual Look Up also now works in videos.
The changes to the ‌Photos‌ app are available to developer running the ‌iOS 17‌ beta, with Apple planning to release an ‌iOS 17‌ public beta next month.