Apple Planned to Offer MagSafe Charger in Range of Eight Color Options
Apple planned to offer the MagSafe Charger in eight different color options around 2020, the prototype collector known as "Kosutami" claims.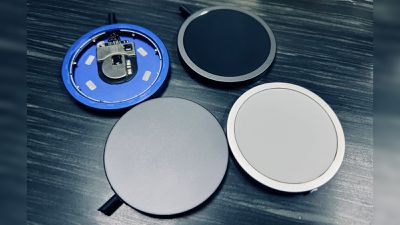 MacRumors is told that Apple prototyped the ‌MagSafe‌ Charger in Space Gray, Starlight, Green, Pink, Purple, Yellow, Blue, and (PRODUCT)RED color options. The Yellow, Blue, and (PRODUCT)RED variants, in particular, were apparently highly saturated, deep shades.
The rubberized disc on the surface that makes contact with the iPhone and the cable was paired in a contrasting color to the shade of the aluminum exterior. For example, the Space Gray ‌MagSafe‌ Charger was matched with a black disc and cable. The prototypes seem to originate from the period in which the ‌iPhone‌ 12 and iPhone 13 lineups were being developed, explaining why many of the planned shades correlate with the color options offered on those devices.


To date, the ‌MagSafe‌ Charger for ‌iPhone‌ has only been available in Silver. Upon releasing the M2 MacBook Air, Apple has offered the ‌MagSafe‌ 3 charger for Mac in Silver, Space Gray, Midnight, and Starlight, so additional color options for ‌MagSafe‌ for ‌iPhone‌ may not be out of the question in the future.
Kosutami first shared news of the plans for a range of ‌MagSafe‌ Charger color options last week, adding that Apple similarly prototyped multiple color options for the unreleased "Magic Charger" accessory.