iPhone 15 Pro to Bring Major Changes to Volume and Lock Buttons
Apple's iPhone 15 Pro models will bring major changes to the volume and lock buttons, according to recent rumors.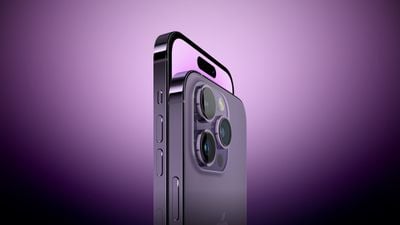 Last year, Apple analyst Ming-Chi Kuo reported that the volume and power buttons on this year's two high-end iPhone models will adopt a solid-state design, similar to the ‌iPhone‌ 7's home button, replacing a mechanical button design that physically depresses. Apple uses a similar method for its Mac trackpads, which do not physically move and simply mimic the feeling of being pressed with small vibrations.
The new iPhones will reportedly contain additional Taptic Engines on the internal left and right sides to provide physical feedback to users, making it feel as though they are pressing real buttons. The change means that the number of Taptic Engines in each ‌iPhone‌ will increase from one to three.
Barclays subsequently appeared to corroborate Kuo's report, saying that Apple supplier Cirrus Logic may have hinted at ‌iPhone 15 Pro‌ models getting haptic buttons in 2023 – something Kuo later noted with specific mention of Cirrus Logic benefiting from Apple orders to bring the feature about this year. Analyst Jeff Pu has similarly said that the ‌iPhone 15 Pro‌ models will feature solid-state volume and power buttons with haptic feedback thanks to two extra Taptic Engines, and there is a growing consensus among analysts about the change.
Most recently, it was rumored that the volume buttons will become a single elongated rocker button on the ‌iPhone 15 Pro‌, and the change may even extend to the mute switch, which could move away from a mechanical switch and become a haptic button.
It is as yet unclear how the new haptic buttons will work through cases, especially if they require direct touch contact. Likewise, there will need to be solutions to accommodate device recovery in situations the ‌iPhone‌ may not be working as expected. The iPhone 15 and ‌iPhone 15‌ Plus are expected to stick with traditional clickable volume and power buttons, so it seems likely that Apple will have to tout some kind of meaningful improvement or new functionality to successfully upsell customers to the buttonless design.