HomePod Launched Five Years Ago Today, Faced Several Setbacks Along the Way
Apple's original HomePod became available to customers five years ago today. Over the years, the smart speaker faced several setbacks, including a delayed launch, poor reviews of Siri, reports of lackluster sales, and even a temporary discontinuation.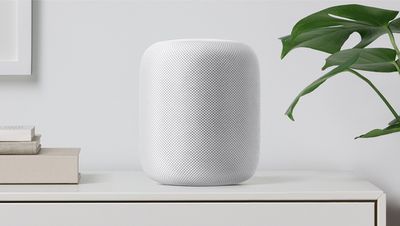 Apple first announced the HomePod at WWDC 2017 and planned to release the speaker in December of that year. However, the HomePod was ultimately delayed and ended up launching February 9, 2018, but only in the U.S., U.K., and Australia. Availability expanded to additional countries later that year, but the rollout was slow.
"HomePod is a magical new music experience from Apple," said Apple's former marketing chief Phil Schiller, in a February 2018 press release about the launch. "It brings advanced audio technologies like beam-forming tweeters, a high-excursion woofer and automatic spatial awareness, together with the entire Apple Music catalog and the latest Siri intelligence, in a simple, beautiful design that is so much fun to use."
The original HomePod received rave reviews for its sound quality, but opinions about Siri were far less favorable, as Apple's voice assistant had several shortcomings at the time. On the HomePod, Siri could not set multiple timers, lacked multi-user support, could not directly make and receive phone calls, could not answer as many questions as Amazon's Alexa or Google's Assistant, and had other limitations. Apple added many of these features to the HomePod with software updates over the following months and years.
While the HomePod's feature set gradually improved, multiple reports indicated that the speaker had lackluster sales and limited market share. Apple gave the HomePod a very rare price cut from $349 to $299 in April 2019 in an attempt to spur sales, but the device never became a runaway success and Apple ultimately discontinued it in March 2021 to focus its attention on the smaller HomePod mini that had launched four months earlier.
"HomePod mini has been a hit since its debut last fall, offering customers amazing sound, an intelligent assistant, and smart home control all for just $99," Apple explained at the time. "We are focusing our efforts on HomePod mini."
After the HomePod was discontinued, a niche market emerged for the speaker that resulted in the device fetching high resale prices on eBay.
Last month, Apple reversed course by introducing the second-generation HomePod with a virtually identical design as the original. The new HomePod has a larger backlit touch surface, five tweeters instead of seven, four microphones instead of six, an S7 chip instead of an A8 chip, a U1 chip for handing off music from an iPhone, and a new temperature and humidity sensor. The speaker launched last week and remains priced at $299.
Apple said it had "heard more interest than ever for the acoustics of a richer larger speaker," leading to the HomePod's return. Many reviewers said the new HomePod sounds largely the same as the original, and Siri has improved over the years, but it remains to be seen if the speaker will be any more successful than its predecessor.